2016-2017 Staff
Staff Writer
I was raised in Onsted and graduated from Onsted High School in 2014. After high school, I went to Jackson Community College for two years and then transferred to Siena Heights University in the fall of 2016. I'm a junior and...
See Jacob Hagerty's profile
Sports Editor
I am a junior majoring in Sport Management with an interest in sports journalism. I love helping others and making other people smile as well as spending time with my friends and family. Here at Siena, I am a member of the Tra...
See John Gillingham's profile
Editor
I am junior majoring in Communications with a specialization in Professional Writing and a minor in Creative Writing. I love to serve others and make people laugh. At Siena, I am involved in our Student Life activities and groups....
See Sissy Phillips's profile
Entertainment Editor
I have been critiquing films for the past six years and reviewing professionally for the last two. I currently run a blog called "The Only Critic" which I update frequently with the latest movies hitting theaters. On the...
See Nate Adams's profile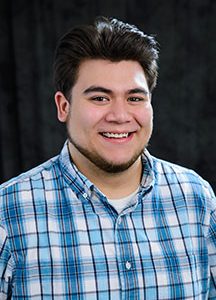 Video Editor
Jesse is currently the Video Editor for Spectra and the executive producer of the hit Spectra News Network show "SHU-fle'd: Rise or Fall."
See Jesse Ramirez's profile
Adviser
Before arriving at SHU, I had more than 20 years of journalism experience in both newspapers and magazines. I am a former newspaper editor who received more than 60 writing awards from the National Newspaper Association, the Associated...
See Doug Goodnough's profile