Lanese Completes Mural Highlighting Toledo History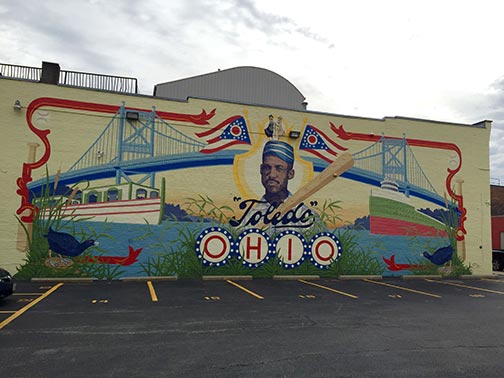 Hang on for a minute...we're trying to find some more stories you might like.
This past spring, Art Corner Toledo (ACT) put out a call for art. Natalie Lanese, an art professor at Siena Heights University, heard the call and connected with good friend Douglas Kampfer.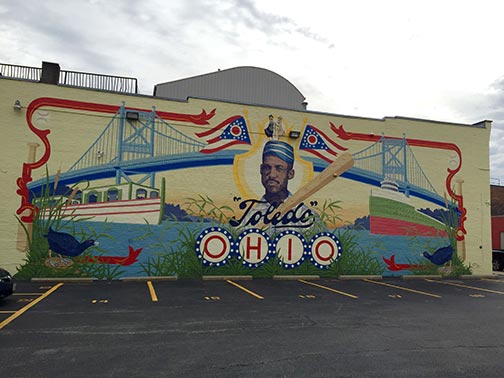 The two had previously worked together on other small projects and decided that for this particular project they wanted to create something special for Toledo.
Criteria for this piece was that it had to be baseball themed, seeing as how the mural is located in the Warehouse District only a block away from Fifth Third Field, the home of Toledo Mudhens baseball.
"Doug and I began extensive research so that we could adhere to the wishes of the building owner, and still make the work our own." said Lanese.
During their time of research, Lanese and Kampfer learned that it was Moses Fleetwood Walker who was the first African American to play Major League baseball. In 1884, Walker played for the Toledo Blue Stockings. Finding this rich Toledo history led them to make Walker the central figure of their piece. The remaining space of the building was used to feature imagery from other aspects of Toledo's history.
Mud Hens can be seen standing among grasses that are native to the Black Swamp region. Going down the Maumee River, The Volunteer canal boat and the Schoonemaker Great Lakes freighter can be located right underneath the High Level Bridge.
Lanese and Kamper decided to call the mural "Island Sanctuary for the Ghost of Moses."
"The mural is approximately 30 feet by 70 feet, and is located at 19 S. St. Clair St. in Toledo (near the corner of St. Clair and Washington)," Lanese said. "We completed it last week, and will sign it and celebrate its completion during the Thursday Loop on Oct. 15."