Inflatable Laser Tag a Thrilling Twist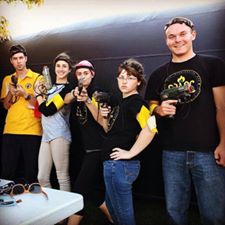 This year for Homecoming, SPARC, Student Programming and Recreation Committee, decided to bring Laser Tag yet again.
However, there was a twist this year. It was an all enclosed, blown up, all inside a dome instead of the typical blown up little obstacles that used to litter the gym floor.
Students entered and were welcomed with a puff of air as they pushed their way in. Their eyes adjusted to the dark entrance, taking in the different hanging sections and the dim light. Students could find spots and walls to hide behind and scare their enemies.
"It really made your adrenaline go because you had to hide from people and try to hit them before they hit you. It gets really competitive," said Andy Mikuski, a freshman. "It would be fun to do it again."
Not only did SPARC have the inflatable laser tag set up, but they also had lawn games and a food truck that served mini donuts and apple cider.
"It was fun and brought people together," said Kay Coleman, a sophomore. "The donuts were delicious. They were hot, sugary, and fluffy all at once."
Emily Peters, one of the advisors for SPARC, loved Laser Tag, and even played a few rounds herself.
"I think it was an exciting, new, different thing to have on campus," she said.
Madison Lane, a senior and the vice president of Marketing and Promotion for SPARC, said that it was "awesome, and the fact that I won was even more awesome."
According to SPARC Vice President of Business and Finance Charlie Shepherd, laser tag was a must. Her favorite part?
"It was fun scaring people," said Shepherd.
Will it ever be brought back, though? If you enjoyed your time, tell a SPARC member and make it a reality!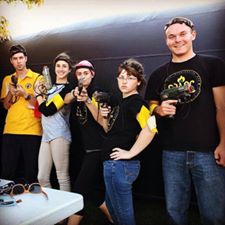 Leave a Comment