Saints Sports Roundup: Through Oct. 22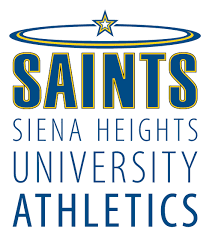 Hang on for a minute...we're trying to find some more stories you might like.
October 14
Men's Cross Country @ Jayhawk Cross Country Invitational
The Saints finished 2nd overall against 17 other teams. Esrom Woldemichael was the top-finisher for Siena Heights, he finished the eight kilometer course in 26:10.34 for 15th place. Close behind him was Stephen Merchant who crossed the finish line in 26:20.37 for the Saints.
Women's Volleyball vs. St Francis & Saint Xavier
The Saints topped St. Xavier but lost to St. Francis at the Cornerstone/Aquinas Classic. The Saints won in three sets against Saint Xavier, coming back after being down at one point in the second set. In the second game, the team lost in four sets to St. Francis in an overall close game.
October 15
Women's Volleyball vs. Indiana South-bend & Governors State
The Saints won both matches on the second day of the Aquinas/Cornerstone Classic, defeating both Indiana University South Bend and Governors State in four sets. Paige Hudgin had double digit kills and Amanda Metz contributed over 40 assists in each game.
Football vs. Taylor
The Saints lost 14-21 to conference opponent Taylor. Curtis Smith contributed two touchdowns and defensively, EJ Shaah and Yeloushan both made 10 tackles for the Saints. The Saints out-passed Taylor, 210-78, while the Trojans outran SHU, 234-139. Overall, Siena Heights totaled 349 yards in 69 plays as Taylor compiled 312 yards in 68 plays.
Women's Soccer vs. Cornerstone
The 22nd-ranked Saints defeated Cornerstone, 3-0. The three goals game from Samantha Bartelotti, Emily Burkman, and Danny Eastman. Overall, Siena Heights outshot Cornerstone, 11-8, and held a 5-3 corner kick advantage.
Men's Soccer vs. Cornerstone
Cornerstone scored early on against the Saints and the 1-0 score would hold throughout the game. Overall, Siena Heights was outshot 15-8 by their opponent.
October 16
Men's Golf @ Motor City Invitational
Siena Heights men's golf team finished 12th with a score of 331 in day one of the two-day Motor City Invitational. The top-SHU finishers were Wyatt Spalding with an 8-over par, 80 on the 6795 yards course and Hunter Walsh who shot an 81.
October 17
Men's Golf @ Motor City Invitational
After a 12th-place ranking in the first round, SHU improved to 11th-place after a 17 stroke improvement as a team in the second round. Wyatt Spalding improved his score by four stokes to make his tournament total 156 (80-76) to tie for 26th place. Overall, the Saints shot 645 (331-314) in the two-round tournament.
Men's Soccer vs. Lawrence Tech
The Saints fell 1-0 against Lawrence Tech in their rescheduled match. The game was scoreless until the 77:23 mark when Lawrence Tech was able to knock in a goal on a scramble in front of the net.
October 19
Men's Soccer vs. Indiana Tech
The Saints lost 2-1 to conference opponents Indiana Tech. Soon after the match started, Ian Billock scored the lone SHU goal assisted by Alessandro De Santis. The 1-0 score held through halftime. Indiana Tech put the Saints away in the second half, scoring in the 57th and 87th minute. Saint's goalkeeper Leo Hisamatsu made four saves in net.
October 21
Women's Volleyball vs. Madonna
The Saints hosted No. 18 Madonna on Friday and conceded the match in three sets. Paige Hudgin led the Saints with eight kills and nine digs. Amanda Metz dished out 24 assists in the match.
October 22
Women's Cross Country @ NAIA Great Lakes Challenge
The Saints achieved a seventh place finish in a 25-team field at the NAIA Great Lakes Challenge. As a team, SHU totaled 1:36:18.97 and averaged 19:15.79 per runner. Ashley Russo finished the 5k course in 18:19.84 to earn a fifth-place individual finish, missing second place by less than 10 seconds.
Women's Soccer vs. Marygrove
The Saints handled conference opponent Marygrove easily winning 5-0. Alexis Gainer, Emily Loar, Erin Scheidel, Julia Stancato and Emily Burkman all put a point on the board. The Saints defense not only held Marygrove to a shutout, but did not allow any shots.
Men's Soccer vs. Marygrove
The Saints dropped a Wolverine-Hoosier Athletic Conference contest to Marygrove 5-1. Brent Rodden got the only goal for the team in the 2nd half. Siena Heights was out shot by Marygrove, 6-13, who also held a 5-1 corner kick advantage.
Football vs. Olivet Nazarene
The Saints won 17-3 to crossover opponent, Olivet Nazarene (Ill.). The team credits the win to solid defense from all around. Especially from Malik Edwards who finished with six total tackles, three solo and three assisted tackles. Quarterback Lucas Barner went 20-for-32 while throwing one interception. He totaled 201 yards and threw both of SHU's touchdowns.
Volleyball vs. Michigan-Dearborn
The Saints easily won against conference opponent UM-Dearborn in three sets. SHU was led by Paige Hudgin, Libby Breton and Abby Whitehead, all with seven kills. Amanda Metz dished out 26 assists in the match.