Rivalry Report: Do They Exist at Siena Heights?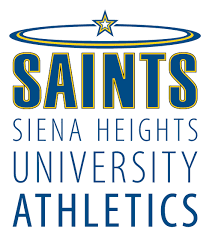 Hang on for a minute...we're trying to find some more stories you might like.
Michigan and Ohio State.
Barcelona and Real Madrid.
Blackhawks and Red Wings.
These well-known sports rivalries, whether they've developed out of 100-year-old border disputes, or out of sheer proximity of the teams, create the most anticipated games of the season. Players are fired up with pride to defend their perceived superiority, and fans love the drama of a blood match.
Siena Heights athletics is obviously on a smaller scale than these larger athletic teams, so one has to wonder if rivalries here hold the same weight. Do rivalries still get our schools collective heart pumping? Does Siena even have a rival?
At first glance, it is not clear that Siena Heights has a definite rival. On a deeper level, it becomes apparent that each team perceives who its rival is based on its unique past experiences. When asking members of the Siena Heights women's soccer team who they perceive their rival to be, answers ranged from Madonna to Northwestern Ohio. Younger players identified UNOH as their rival, yet older players leaned more towards Madonna, showing that rivalries evolve over time, sometimes in just a few years.
On the other hand, some teams claim they haven't developed a rival.
"I wouldn't say that the softball team necessarily has a rival, but I think there's teams that we prefer playing over others just because they are nicer and generally more respectful," said softball player Paige Dean.
One defining competition on campus takes place during the annual Adrian vs. Siena Heights basketball games. There is also a display of rivalry between at least one of the teams.
"It's not as much as a rivalry between the women's teams because we beat them so much," explained women's basketball player Ellie Kebler.
According to men's basketball player Chris Pearl, the rivalry still matters to the men's players, though,
"It's a big deal to us since the competition is more tight," he said. "There's a trophy involved, the Jug, that Adrian has right now because we lost last year. More people definitely come out to this game than others."
So, there are rivalries on campus, but do they matter to players and fans?
On a personal level, some players said they do matter because they improve their performance and overall college athletic experience.
"Our rivalry with UNOH helps us play better and drives us to succeed. It enhances the experience. It's not fun to play against schools that aren't good golfers because you start playing down to their level. Playing against good competition makes it more fun and makes it more enjoyable," said golfer Alyssa Fausneaucht.
Rivalries invoke the spirit of competition, so it doesn't matter if the school doesn't have a collective rival; each team still experiences the same emotion while they play. Fans seem to enjoy the various rivalries our sports teams have, too.
"Rivalries are important in any competition, said Siena Heights student and fan, Jarrod Stober. "I think here at Siena, it depends on the sport, but people know who you want to beat. I don't think it is as exciting as an Ohio State vs. Michigan game, but there is always a lot of school spirit when the big game happens here. There is an added buzz around campus."
Overall, due to the nature of Siena Height's athletic teams, rivalries exist based on different criteria that are constantly evolving. These ever-changing rivalries will never cease to exist because the spirit of competition is so innate. Further, they may not seem important on a large scale, but to players they mean the difference between a high-energy competition between a worthy opponent, or just another run-of-the-mill game. Whatever the team and no matter how small or large a rivalry is, Siena Height's fans are sure to represent.
Those interested in representing Siena Heights in one of the university's more prominent rivalry games, head out to the Adrian game on Nov. 22. The women's game begins at 6 p.m., with the men following at 8 in the Fieldhouse.