Pink Game 2017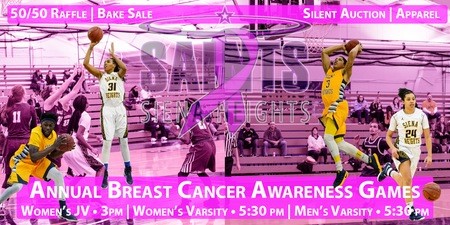 Feb. 4 was the annual Breast Cancer Awareness (Pink) Games at Siena Heights. Throughout the game, the teams hoped to raise money and awareness for those who have or has been affected by cancer.
There was be a 50/50 raffle, a bake sale, a silent auction, as well as t-shirts for sale. All proceeds went to the Hickman Cancer Center.
Both men's and women's varsity basketball teams hosted Madonna in a Wolverine-Hoosier Athletic Conference matchup. The players said this game means a lot to them as they hope to donate a lot of money for all those people who have been affected by cancer while also trying to improve on their season records.
Sophomore forward Chris Pearl said he hopes to draw a big crowd at home and hopes to make a lot of big plays to get the crowd fired up as they look for revenge on Madonna, as the Saints fell to Madonna earlier this season on the road.
Pearl said he plays this game in honor of his grandma, Linda Commissaris.
"Grandma comes to every game, and winning this game would top everything off," he said.
Junior captain Tony Jackson talked about how everybody knows of someone who has been affected by cancer and added that "being able to raise money through basketball is a blessing."
Jackson mentioned how he plays this game in honor of his aunt and grandma while adding that "winning is everything right now."
On the women's side, sophomore Sharmaine Wills said she plays this game in honor of her grandfather, who is a survivor of prostate cancer, and mentioned how this game means a lot to her because he is still here and healthy.
"Winning would be everything. It would put me one step closer to reaching my goal of making them proud and begin to repay them for everything they have done for me," Wills said.
Redshirt freshman Demi Russell said what makes this game so special to her is that she plays in honor of her grandfather, who used to be a basketball player before he had to have his leg cut off.
"Winning this game would be a special game to win as a team, as we would be closer to nationals," Russell said.
Junior point guard Azalea Miller said she plays this game for one of her old high school teachers while mentioning how this game gives them a chance to show support for anyone who is fighting cancer.
"Besides getting closer to nationals, winning this game would show we are fighting for everyone affected with this disease," she said.
"It's nice to know you're not just playing for yourself, but that you are also fighting for a purpose." junior forward Taylar McNeal said. She plays this game in honor of her dad, Jake McNeal.
"Winning this game shows that battles can be won one step at a time," McNeal said.
Look for the results of both games online at www.shusaints.com.
Leave a Comment