Saints Advance in WHAC Tournament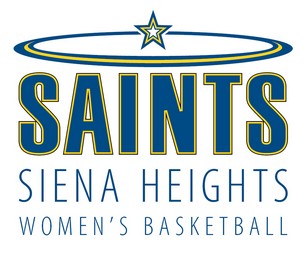 The Siena Heights Saints cruised past Cornerstone in round one of the Wolverine-Hoosier Athletic Conference tournament, defeating the Golden Eagles 74-49.
Rebounding was a huge factor in the game as the Saints out rebounded the Golden Eagles 49-37. Nineteen of those rebounds for SHU were offensive rebounds, which led to 27 second-chance points.
Leading the Saints with 30 points and 20 rebounds was April Watson. Watson expressed her feelings on the importance of rebounding.
"They had a lot of post makers and guards who crashed the boards so being able to rebound was a big game changer for us," Watson said.
SHU led from the start, scoring 19 points in the first quarter off nothing but layups and free throws to take a 19-10 lead into the second quarter.
Cornerstone got within three points, but after back to back 3-pointers by Jaaliyah Arrington and Azalea Miller, SHU got rolling again and got back out to a double-digit lead as it went into halftime leading 34-22.
The Golden Eagles fought back, kept the game close and were back within single digits until the Saints went on an 8-0 run with about 1:30 remaining in the third quarter before ending the quarter with a convincing 53-39 lead.
Watson opened the final quarter with a layup, followed by a layup from Miller. Miller then rebounded her own free throw attempt, which led to a 3-pointer by Arrington. A couple plays later, Arrington connected on two free throws before Watson connected on a pair of layups to cap off a 12-0 run for the Saints which put the game out of reach.
With 3:35 remaining in the game, Demi Russell replaced Watson, who left to a big round of applause.
The Saints hung on for a huge 74-49 victory. Arrington and Watson both agreed that Watson's opening offensive bucket got the team going, and this was a huge win for the team.
"This just proves we're a great team," Watson said.
"We're proving people wrong and are getting recognized, as we do not get credit from other teams in our conference," Arrington added.
The 22nd– ranked Saints will now head to Indiana as they take on No. 17 Indiana Tech in the WHAC Tournament semifinals Feb. 25.
Playing good defense, boxing out and getting them in foul trouble early is what they have to do, Arrington and Watson both said.
Tipoff is set for 1 p.m. The winner of that game will advance to the tournament finals on Feb. 27 and will play Davenport.
Leave a Comment