Saints Fall Sports Preview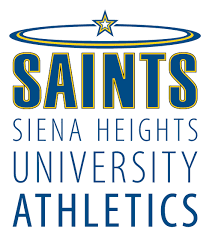 As the fall season opens, and the school work begins to pile up, the Siena Heights Saints always have one thing to lean back on … sports. Whether it is school, work, or family matters that tend to cause stress, problems, or insanity, take a break and check out some of the wonderful Siena sports teams. Here are season previews for the fall SHU sports teams for 2017-18.
Football
The football team is coming off a 5-5 finish to 2017 season, and looks to compete for a conference title this year. It starts off with the head coach, Matt Kohn. After spending time as the interim head coach in 2016, Kohn was given the head coaching job. Kohn has a lot of young, bright talent on this team starting with Junior QB Lucas Barner. Barner will look to anchor the Saints' offense with the help from Austin Crider, a sophomore wide receiver with ankle snapping moves. If the Saints are able to get there weapons clicking on all cylinders, only time will tell where the Saints end up this year.
Men's Soccer
Men's soccer will look to improve their 5-11-1 record from a season ago. The Saints lacked to produce a steady attack last year, which ultimately resulted in finishing 2-9 in the WHAC. Led by senior Rhabar Khan and head coach Aldo Zid, the Saints will need veteran leadership and young talent to mix well in order the have a successful season. Many people would look at their record from last year and might have doubts. What makes this team different, though, is how they push each other day in and day out, according to team members. Whether it be during sprints or just common drills, this team is a family.
Women's Soccer
Women's soccer looks to improve in 2017, even after an impressive 2016. The women finished 12-6-2, and are stacked with a large amount of young talent this year. With 20 freshmen listed on the roster for 2017, collegiate experience will be lacking; however, with time and effort put in on the junior varsity squad, the team looks primed and ready for a great year. Led by two senior goalkeepers, Meghan Bogg and Taylor Hill, the defense will still have to keep up with the speed of No. 1 ranked and 2016 NAIA champion Northwestern Ohio.
Women's Volleyball
Woman's volleyball is already off to a great start in 2017, winning all four matches in the Siena Heights tournament. The team is set to begin WHAC play on Sept. 6, as they take on the Lourdes Grey Wolves. The Saints have already moved their record to a blistering 11-1 record, and look to take a WHAC title home with them this year.
Leave a Comment