Sharing His Knowledge of the Game: Baseball GA Ronnie Deck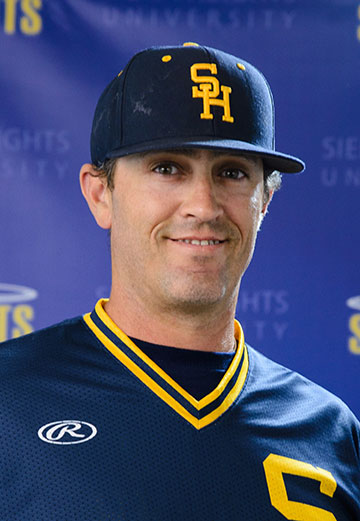 Ronnie Deck started this fall in the graduate program at Siena Heights University while working as an assistant for the baseball program.
Deck has had a very diverse and experienced past that has led him to coach at SHU. He is the new pitcher/catching coach. He is bringing all of his experience to Siena to try to make a positive impact on our program.
Deck graduated from Oklahoma Christian University, where he played catcher for two years. He also played for the Tampa Bay Rays organization for several years. He moved up through five different levels of the organization where he eventually reached the Double A level.
He spent some time coaching in various places once his playing career was over. He coached in places like Florida, Texas, Georgia and Colorado. He eventually suited up again as the bullpen catcher for the Baltimore Orioles for six years. He then spent one season as an international scout for the Orioles.
He said his favorite memory in his baseball career was having the honor to be at the last game at old Yankee Stadium.
"Being at the last game at such an historic place was such an honor and a cool experience. Getting to be at the last game in the house that Ruth built and getting to keep a little part of history was something I will never forget," he said.
He continued his coaching career in various place and levels of competition. He was able to coach at the Triple A level, college and high school. He said this gave him such diverse experiences to be able to understand and help players at all levels with the massive amount of experience he has.
He said his biggest piece of advice to players is to "learn something every day. If you're constantly learning you can always get better and learn from others."
Deck said he is very excited for the season and ready to work with all the pitchers and catchers.
View Comments (1)