SHU Standout Darius Price Has NFL Aspirations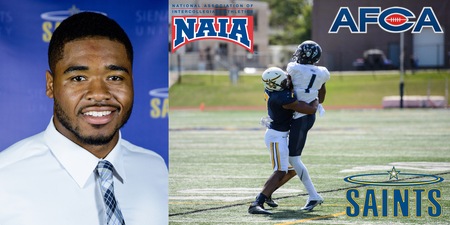 Hang on for a minute...we're trying to find some more stories you might like.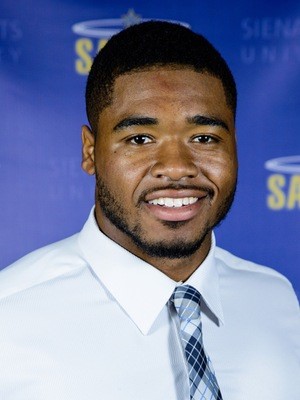 Darius Price has had plenty of accomplishments during his college football career at Siena Heights University. His most recent accomplishment was being named the Mid-States Football Association Mideast League Defensive Player of the Year and a NAIA first team All-America.
Now that his days as a college football player are behind him, Price is switching his focus to hopefully get the opportunity to play football at the next level.
Price said he has signed with an agent and will be moving to the Metro Detroit area upon graduation in December to train for the National Football League combine and for pro day. Price also said he will be attending the College Gridiron Showcase in January in Addison, Texas.
Price said he looks at his group on campus, Compel, as his purpose, and would like to one day use his business degree to work for a small business, and eventually become a CEO.
But for now, Price focuses on trying to get to the NFL. Price said that Dan McKeown, former SHU defensive coordinator and defensive backs coach, had told him that scouts would be coming in to see him after spring ball.
"I smiled and asked if it was real. He told me to get used to it, and that there would be more to come," Price said.
Price said it was really eye-opening and a shocker when the Detroit Lions and the Indianapolis Colts came to visit during spring ball and had him fill out an application.
"I didn't believe it until I got the attention, that's when it started to feel real," Price said.
Price said it was not easy coming from a small school in a bad neighborhood and transitioning to college. However, he describes this as a very humbling process for him and looks to use this opportunity as more of a stage to reach people.
"It means more to help kids in the community," he said.
When talking about the possibility of potentially playing professional football, at 6-feet-2 inches, 225 pounds, Price said he feels he would make a good strong safety, outside linebacker, or nickel cornerback.
"The league compares me to (Seattle Seahawks safety) Kam Chancellor because of my size and what he brought to the table while he was in college," he added.
Price also said he feels his skills of being able to read offenses and quarterbacks, as well as being able to guard receivers and stop runs, will help his chances of reaching the next level. He said his main strengths are his playing man coverage and his ability to make tackles. Other skills he feels he possess is his ability to learn quickly and to adapt to other defensive schemes.
When one thinks of potential NFL prospects, players from the NAIA usually aren't in the conversation. So when asked if he had any regrets of not going or transferring to a bigger school, Price was open and honest about it. He said at first, he did not want to stay at Siena Heights, but then went on to talk about how coming here and staying here was meant to be.
"It was full of purpose for me to be here to develop into a better man and athlete," he said.
Price also went on to say how going to a bigger school with a bigger stage might not have given him the opportunity he has now. He mentioned how other schools did call him and wanted him to play for them, but he was confident when he said he does not regret staying at SHU.
"I realized my purpose was bigger than football, and coming to Siena Heights University helped me develop," he added.
When asked about his inspiration, Price said it is his father, one of his previous coaches, and all the people that look up to him back home and believe in him. One day he said he hopes to serve as an inspiration to others.
"When I'm down, I look to the future and see what I can mean to others and the lives I could impact. That makes me work harder," he said.
When asked what advice he would give his teammates or any athlete in a similar position, Price said, "Humility is the main key and always remain humble."
He said humility make you work harder in life. Also, he said he wants others to remember that you are not there yet, because when you think you are, you quit working.
"Everything you do, do it with the best of your ability and never take a rep off," he said.