Robinson's Return to SHU Basketball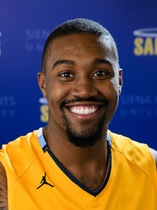 Hang on for a minute...we're trying to find some more stories you might like.
 Marques Robinson, a senior on the men's basketball team, tore his quad muscle and was unsure how his senior season would turn out.
Robinson, an Alaska native who is returning from rehab to join the Saints for the upcoming season, said it is always tough as an athlete to go through an injury, no matter what it is.
In basketball, with all the cuts and moves that are necessary to make a play work, a torn quad is nothing simple to recover from. Robinson said it was a lot different to get in the swing of things because his quad was so weak. It took a lot of rehabbing and work to get it back to what is used to be.
The new season for basketball has started and Robinson said he is continuing to get back into tip-top shape, and his leg feels "good as new." He said wants to focus on getting his individual game back day-by-day and step-by-step as the season progresses.
Robinson, a guard, expects the team to come together this winter and win a lot of close games in the Wolverine-Hoosier Athletic Conference. Robinson said is ready to make an impact.
He said Alaska is not like the stereotypes make it out to be. Two winters ago, they only got a total of 18 inches of snow. He said it is truly like any other place. However, he said that the sights are absolutely stunning. To wake up seeing a sunset over the horizon is truly beautiful.
He said he loves it at Siena Heights, but can't wait to be home again.