Coach Dominic Adams Excited to Build Women's Wrestling Program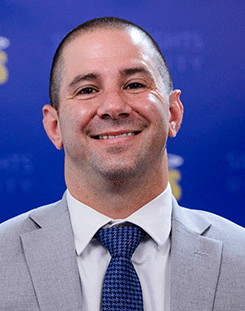 Dominic Adams has been coaching wrestling for 12 years. For the last four seasons Adams has been coaching women's collegiate wrestling at Lourdes University and Adrian College, where he was an assistant coach at both institutions.
Adams said he got into wrestling when he saw a high school heavyweight match when he was 5; from then on, Adams was hooked.
Adams wrestled in elementary school up until high school in Fenton, Mich.. Adams is a very experienced coach, and that is what the Saints have brought in. Adams has coached in all levels from "youth, middle school, high school, freestyle, Greco Roman and women's freestyle collegiate wrestling."
Once Adams enrolled at Central Michigan University, he studied journalism, where he covered the men's and women's wrestling teams. He said the experience from covering the wrestling teams motivated him to become a wrestling coach.
Later on, Adams had a best friend and mentor named Brent Harvey.
"(He) started a girls only wrestling series that went all over the country giving girls opportunities to wrestle against girls," Adams said.
Adams mentioned how "previously, girls were forced to wrestle against boys because they did not have any opportunities to wrestle against girls."
One statement that Adams remembered Harvey told him was "there's a million people doing this for boys, and no one is doing this for girls."
Adams mentioned how one year his team had to travel to 13 different states hosting tournaments so girls could have the opportunity to showcase their talents, because otherwise they would not have the opportunity to play.
Unfortunately, four years ago, Harvey passed away tragically as a result of a motorcycle crash, and following his death was what motivated Adams to coach women's wrestling. Adams said he "felt that God was calling me to be a women's head coach."
Adams said he also got into coaching because he believes he can have a positive impact on student-athletes by sharing his love and knowledge of wrestling with his players. When Adams was offered to coach at Siena Heights, where he could start a program, he said, "I chose Siena Heights because I believe my personal values align with those of the institution."
Adams said he believes that the Siena Heights women's wrestling program is rooted with the values of love, family and fun. He said he is also very excited "in building the program from scratch here."
Adams said he is also excited to have two women's wrestling programs in the same town.
Adams and the Saints have already hit the ground running. Recently, the Saints signed their first commit: Maggie Mann from Pickerington North High School in Ohio.
Adams said he wants to bring in ladies who are serious about getting the job done in the classroom, on the mat and in the weight room. Most importantly, Adams said he wants ladies who buy into all aspects of the program being built, as well as the culture that is being built.
Adams said he is "recruiting all across the nation, and believes that the fantastic education and competitive athletic scholarships we offer make Siena Heights a very desirable place for any young lady who is serious about her education and wrestling."
Adams said he wants his student-athletes to have a fantastic experience, have a "top-notch education" and enjoy their time being a part of the Saints women's wrestling program. When recruiting, Adams said he looks for character. He wants ladies who understand that when they step foot on campus, they are a part of something that is bigger than themselves.
"They must be willing to buy into our values and be willing to lean into being uncomfortable," He said.
Adams said he knows that being uncomfortable is where growth comes from.
Leave a Comment