Lee, Saints Looking for Big Jump This Season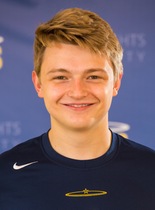 Nathan Lee, a junior on the men's volleyball team, has been playing volleyball for 10 years.
Lee said he got into the game of volleyball when he was playing with his family at reunions.
Lee said, "My family got me into playing. We always played at family reunions."
From there Lee's interest in the sport grew. Lee, a Columbus, Ohio, native, said he chose Siena Heights because of the relationship he built with the Adrian Dominican Sisters. Siena Heightsis a private Catholic institution, and Lee mentioned how he "was looking for a religious program.Having a resource like the Adrian Dominican Sisters during my studies was a huge turning point in why I chose to attend Siena."
Lee, who is already on the back nine of his career as a Siena Heights student-athlete, has a goal of attending another mission trip this school year. As for the volleyball team, Lee states that his goal for the team is to make the national tournament.
Since stepping foot on campus as a first-year student in the fall of 2019, Lee quickly realized that being a student-athlete would have its challenges and other adversity to overcome.
First, Lee mentioned how "balancing school work and volleyball was a bit of a struggle." He said this is because of the amount of work that goes into being able to succeed at both. However, since Lee has arrived on campus, he mentioned how there were a lot of great things that the team has been able to do. These activities would consist of team trips like going to California two years ago before the COVID-19 pandemic.
Lee said his favorite memory is, "traveling to California my freshman year with the men's volleyball team."
As the season is getting underway, currently the Saints Men's Volleyball squad is 5-1 and has gotten off to a great start. Lee said the conference is really strong this year, because there are two top 10 ranked teams in the conference. Indiana Tech is ranked ninth and Lourdes is ranked fifth.
Leave a Comment