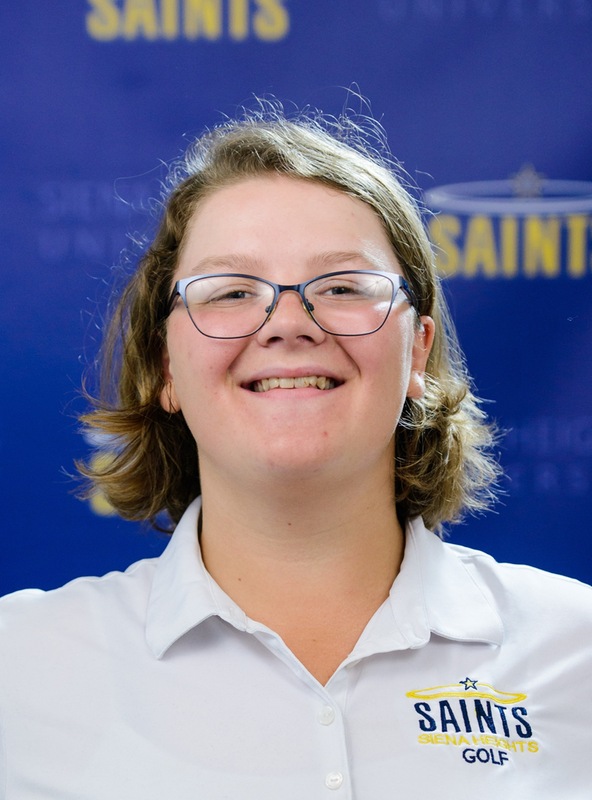 Skylar Whitman, a freshman on the Siena Heights women's golf team, has been golfing since she has picked up a club.
Whitman has been playing competitively for seven years. Whitman, a 2021 Northrop High School graduate, said she fell in love with the game when her dad, as well as the rest of her family, took her out to Colonial Oaks Golf Course, where they developed a great relationship with the owners. From there, Whitman found a course where she can train and develop her skillset. 
Whitman said she decided collegiate golf would be best for her at Siena Heights as soon as she took her visit.
Whitman mentioned how, "(Coach Al) Sandifer was very welcoming," and that the offer boosted her confidence. Now on campus, Whitman said she has enjoyed going to tournaments, developing relationships with her teammates and seeing the new courses.
In high school, she said the courses are a lot shorter than the collegiate level courses, and "learning how to manage them" has been the toughest part so far when it comes to adjusting to collegiate golf up to this point. As far as adjusting to college, Whitman said that "juggling school and golf" has been the toughest part of her adjustment because Whitman noted how managing the amount of free time is hard. 
As for being out on the golf course, Whitman said she enjoys the competitiveness of collegiate golf as well as the pretty courses that she gets to play on during the seasons.
The strongest part of Whitman's game is keeping calm and hitting it far off the tee, as well as her longer iron play. As far as getting better, Whitman said that if she can hit woods off the fairway, then her game can be elevated to a completely different level.
As for her personal goals, Whitman said she wants to personally increase her GPA and improve from her scoring average from last fall. As for the team, Whitman wants to see everyone do their best and advance to the national tournament.