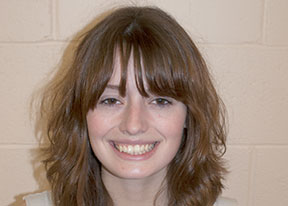 I am currently a junior at Siena Heights University, majoring in Digital Communications with a minor in Creative Writing. I am vice president of the women's group on campus, WING (Women Inspiring New Growth). My writing has been featured in SHU's literary journal, 
Eclipse, 
along with being published in the 2014 issue
of The Southern Indiana Review
. My interests and hobbies include animation, constructive criticism of modern day media, painting, pronouncing gif with a "j", Marvel movies, knitting, gender studies and writing poetry. My goals are to some day work as a conceptual artist for animated movies while continuing with writing and freelance illustration.
Anna Short, Creative/Culture Reporter
Feb 19, 2016

Senior Art Students Ready to Show Their Stuff

(Story)

Feb 19, 2016

Preview: The Importance of Being Earnest

(Story)

Jan 22, 2016

Preview: Romeo and Juliet

(Story)

Oct 14, 2015

what does siena mean?

(Story)

Oct 12, 2015

Alumni Art Reception Oct. 16 in Studio Angelico

(Story)

Oct 01, 2015

CDD 2015: Breaking Out to Discuss Endangered and Threatened Animals

(Story)

Sep 24, 2015

Where Have All the Work Study Jobs Gone?

(Story)

Sep 21, 2015

Senior Projects in Full Swing at Siena Heights

(Story)

Sep 21, 2015

Senior Projects in Full Swing at SHU

(Story)

Sep 11, 2015

Nexflix Review: Sense8

(Story)

Apr 23, 2015

Creative Corner: April 24

(Story)

Apr 16, 2015

Creative Corner: Be Careful

(Story)

Apr 09, 2015

Creative Corner: April 10

(Story)

Apr 01, 2015

Creative Corner: Jesse Bell

(Story)

Mar 26, 2015

Creative Corner: Getting Animated with Animation

(Story)

Mar 12, 2015

Creative Corner: March 13

(Story)

Feb 19, 2015

Creative Corner: Circle and Square, Feb. 20

(Story)

Feb 12, 2015

Creative Corner: Erin Russell

(Story)

Feb 09, 2015

Creative Corner: Megan Foster

(Story)

Jan 23, 2015

Creative Corner: Jan. 23, 2015

(Story)