Moody, Saints Looking for National Run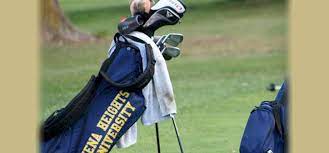 Trent Moody, a senior and a captain on the Siena Heights men's golf team, said he is expecting big things from the team this season.
Last season, the men finished sixth in the Wolverine-Hoosier Athletic Conference championship with 11 teams participating. In fact, the WHAC preseason poll predicts that the Saints will finish sixth for the second year in a row.
This year, the Saints return everyone besides one graduating senior from a year ago and add some nice pieces into the mix with six freshmen and Garrett Ramos, a transfer from Michigan-Dearborn. With these additions, the Saints look to make a big run this year with a chance to go to nationals if they win the WHAC championship. 
Moody, an Early Childhood Education major, has been golfing since he was 16 years old. Moody said his goal for the team this year is to win the WHAC and compete in nationals.
The biggest thing that Moody said he is looking forward to the most this year is building bonds with his teammates and growing together with his teammates on and off the golf course. In Moody's short one -ear career after transferring from Schoolcraft Community College, he said his favorite memory was going to Kentucky with both the men's and women's golf teams.
Moody mentioned how if the team continues to compete in practice and work the way the men have so far this season, the Saints will end up on the top when it is all said and done and prove the polls wrong. 
Leave a Comment