Ioanou Takes a Swing at Coaching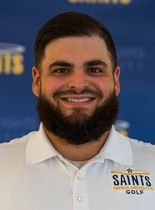 Andrew Ioanou, a graduate assistant on the Siena Heights men's golf team, was introduced to the game of golf when he was in eighth grade.
Ioanou is a former player who played for Siena Heights from 2014-16 and was a big-time contributor to the team when he was a player. Five years later, Ioanou now plays a big role in the golf industry by fitting people for golf clubs to enhance their performance, which is something Ioanou has done since 2010.
He is from Livonia, Mich., which is located in the Detroit metropolitan area. He attended Schoolcraft Community College before attending Siena Heights. 
As a club fitter, there are multiple things that Ioanou said he looks at before he recommends what clubs he/she needs to get to enhance their performance.
"If the client has an obvious swing characteristic like a flat or steep swing, that very well could shape the way I approach the fitting," he said.
Another big part of club fitting is the golf club shaft. If a person has a slow swing speed, then usually a lighter more flexible shaft is required, because the player can gain distance as well as improve shot dispersion.
However, if you have a very high swing speed, then a super stiff shaft is needed, he said. This is because the player with a super high swing speed, the person would struggle with accuracy with a super flexible shaft on a consistent basis.
The reason he said this is important to know is because the more flexible the shaft the more it bends which can cause inconsistent shot dispersion as well as inconsistent ball flight. That is the reason why club fittings are so important, and that is why people like Ioanou come in very handy in the golf industry. 
Not only is Ioanou a club fitter, but he is also a swing instructor. He has been a swing instructor since last summer at The Hills of Lenawee. Ioanou was offered the job when he completed his first year of being a graduate assistant in 2020.
As a golf professional, Ioanou said "you do not get to play enough golf when you are working at a course."
In Ioanou's second year as a graduate assistant, he mentions that he developed a different perspective as a coach now, and that there is a difference between the player's eye and the coach's eye.
Ioanou said, "The main difference is the experience, usually anything you're going through as a player, I've also been through, so it's really just passing my experiences along to the teams."
Ioanou is big in the golf world, which makes him a big-time contributor to the success the Saints had on the golf course last fall. 
Leave a Comment