Halloween Party Fun on Campus
On Oct. 29, the Office of Student Engagement and SPARC joined together to host a campus Halloween party for Siena Heights students in the University Center living room.
The party consisted of festive foods, games, trivia, a photo booth and crafts. The living room was transformed through decorations in order to create a space that went with the Halloween theme. The party ran from 6-8 p.m.
The living room was sectioned off with black curtains so people could not see out the windows, and there were two rooms within the living room.
On top of this décor, there was a variety of Halloween props and tapestries to bring the spirit of Halloween to the students in attendance. Set up started around 1 p.m. and students began showing interest then in what was happening that night when they walked through the University Center.
The games set up for the students included zombie pong, candy corn bowling, Halloween-themed charades and pumpkin ring toss. On top of these games students could participate in Halloween Trivia for a chance to win prizes. Questions focused on topics like Halloween movies, traditions and history and were put together into a Kahoot format.
Food was provided by the SHU Dining and was Halloween-themed, including witches finger breadsticks, mummy dogs, candy corn rice krispies and skeleton cupcakes. Students could also decorate Halloween gingerbread houses. The other craft was a slime making kit, where students could make their own Halloween slime to take home.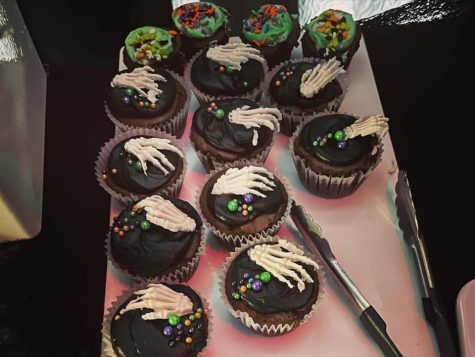 Leave a Comment