SHU is Thankful for Thanksgiving Break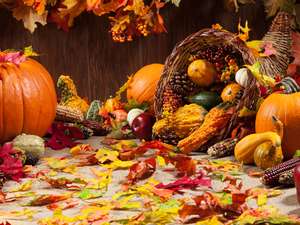 With the holiday approaching, and the end of the semester coming quickly, Thanksgiving break is something both professors and students look forward to at Siena Heights University. This year, Thanksgiving break will start after all classes on Nov. 20, and will resume Nov. 26.
Junior Kelsi Stover said, "I am extremely thankful for my family, and I am looking forward to spending time with them over break. I am also very thankful for the fact that I get to work and make money, while I attend school full-time. It is busy, but I am thankful for the opportunity, and I know it will pay off in the end."
Junior and student-athlete Maddy Sitter said, "This Thanksgiving, I am thankful for my wonderful family, my solid group of friends, and the opportunity to study Education at Siena Heights."
Junior and Education major Anna Tartarian said, "I am thankful for my family, the ability to travel to multiple places, and having opportunities for the future. I look forward to what is to come in my life, and I am excited to see where life is going to take me."
Instructor Doug Goodnough said, "I am obviously thankful for my faith, family, friends and (relatively) good health. I am also blessed to live in a country with freedoms unmatched anywhere else in the world. I so appreciate the ability to work, teach and participate in a community like Siena Heights, where I can encourage, motivate, advise and inspire others- and they have the ability to do that for me."
Not only is Thanksgiving break a great time to reflect on what we are thankful for, but it is also a time to take a break from the stresses that come at the end of the semester. Exams, papers, projects and assignments tend to pile up at this time of the year. Take this time to relax, and breathe. The final stretch of this semester is approaching, and it is time to refocus and get back on the grind for these final weeks.
It is also important to remember that we should be thankful for these wonderful things, not only at Thanksgiving, but every day of the year.
Leave a Comment