SHU Volleyball Preview: Off to a Great Start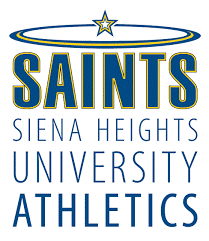 On Saturday Aug. 31, the Siena Heights University women's volleyball team kicked off the second day of its own invitational by taking on Roosevelt of Illinois and Spring Arbor.
The Saints started off slow against Roosevelt after losing the first set. The Saints reacted well by winning the next two sets, ending with a 3-1 victory over Roosevelt.
Spring Arbor gave the Saints a run for their money, coming out on top winning the first set. The Saints did not back down they came back and won the next two sets, giving them a 2-1 lead. In the fourth set, neither team could put each other away, as Spring Arbor won a 37-35 decision. However, SHU won the fifth and deciding set to take the match.
Freshman Victoria Nerkowski led the Saints in both games, with 18 kills against Roosevelt and 12 against Spring Arbor. Her outstanding performance in both games earned her a spot on the all-tournament team.
The Saints have high hopes this season they plan to win their conference and hopefully make it to nationals. The Saints will host a tri-match with Indiana-South Bend and Goshen on Sept. 7.
Leave a Comment