REVIEW: Downfalls High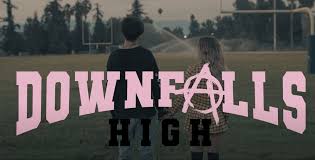 While some artists let the pandemic and coronavirus hold them back, there was one artist who did not back down and kept giving us his all. Machine Gun Kelly took what time we were given to stay at home and created some great music.
Whether he was by himself or collaborating with a fellow artist or friend, he did not back down and made the best out of his 2020.
"MGK" was first known for being a rap artist, but that all changed when he started collaborating with Travis Barker, the lead drummer from Blink-182. I think part of the change in his music came from playing the role of Tommy Lee in the movie "The Dirt" that was based off the best-selling book written by the members of Motley Crue and their life journey.
In 2020, MGK and Barker gave us the "Tickets to My Downfall" album, with some really great songs and collaborations with other artists.
Going into 2021, you would have thought maybe he would be taking a break. But that is the last thing that he did. Instead, on Jan. 18, he gave us "Downfalls High."
"Downfalls High" is very different from what any other artist has done. What MGK did was take a lot of the songs from his "Tickets to My Downfall" album and turn them all into one big music video.
But the songs are not randomly thrown into the video. They follow a certain order to help tell and portray the story of the music video.
I also think the purpose of the music video was to give his fans some insight as to what each song was written about or why he wrote them. I can't say that I have always been a MGK fan; I have always been a fan of the unique and different artist that are not as popular or mainstream.
Nor have I been a fan of rap or hip hop. I have always been a fan of classic rock, pop punk, punk rock, alternative and other genres along those lines.
When "Tickets to My Downfall" dropped, I had to give it a shot just for the simple fact of Barker being a part of it. After having seen and listened to their cover of Paramore's "Misery Business" they did together, I knew I had to give the album a listen.
I was not disappointed, and took a liking to a couple of the songs. I knew I had to check out "Downfalls High" since I had liked the "Tickets to My Downfall" album so much. I was not disappointed with it, either. The creativity and the story line that went into creating "Downfalls High" is something I personally haven't seen in a long time. MGK created something that I think a lot of people can relate to.
The story line that the video follows is the life of a high school boy who was an outcast and different from everyone else. He ends up going through a couple of losses and tough situations, and ends up starting a band and writing songs that are actually the songs from "Tickets to My Downfall." They were written by him about everything he has gone through and is going through in the video.
When he told his friend, they should start a band his friend says that he knows a drummer. After that they show all of them playing together like they are testing out the drummer and his skills.
Once the song ends the drummer himself makes the comment about being better than Barker. I found this quite humorous as the kid playing the drummer is Barker's son.
If you haven't been a fan of Blink-182 or have known who Barker is and who his kids are, you probably wouldn't have caught the joke. I love that each of the kids in the band are made to represent the older versions of MGK, Barker and a couple of the others involved with creating the music on the album.
I don't think I have heard or seen anything done in the way that MGK did that has made me connect with the music and never want to stop listening to it in quite a while.
It was refreshing to have something new and exciting to listen to. It can be a hit or a miss when trying to mix rap with punk/alternative music.
Only a select few can pull it off and make it great, and MGK is one of those artists. The "Downfalls High" video may be a lengthy video to watch or listen to, but it is worth the watch once you get through it.
I have watched it so many times that I lost count of how many times I have viewed it. I wish I could say something bad about it, but I can't find a single thing wrong with it.
I highly recommend watching it. There is a reason it has over six million views and counting on YouTube.