Soccer Brings Bishop to Siena Heights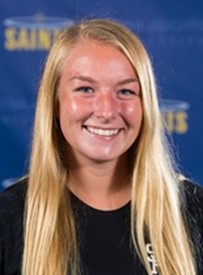 Kara Bishop is currently a goalie and team captain on the women's soccer team and a senior at Siena Heights. She is a double major in Special and Elementary Education.
Bishop is from a small suburban town called Allegan, Mich. The city of Allegan is very close to Kalamazoo. She has been playing soccer for as long as she can remember, which basically means the age of 3 or 4. Bishop said that through soccer, she has learned a ton of life skills such as leadership and how to work with others.
She said, "I have through sports that you're not going to be perfect, and sometimes it's OK to fail because you will learn from your mistakes."
Bishop said she has had a lot of great moments playing soccer at all levels, but her best game was her sophomore year. During a game against Adrian College as a second-time starter, she had multiple saves that eventually helped her team win the game.
She said, "This was one of my best college games. The score was only 1-0, but I was very involved and had five or six blocks."
With all the good that soccer has brought to Bishop's life, she said there has also been some adversity.
She said, "My freshman year it was tough because there were about two at my position that were really good and I really had to prove myself."
Even though Bishop is a senior this year, she is not quite done yet: her major requires her to spend about five years at Siena.
Once she finally graduates, she plans to work and teach abroad in Thailand.
"I want to go to Thailand because I love helping people that are considered less fortunate and I want to make a difference in the world," she said.
Bishop has traveled out of the country multiple times; she even got an award a year ago for doing some work in Honduras.
Bishop said that there are some really talented incoming freshmen joining the program in the fall, and the only advice she said that she has for them is: "Make yourself known, meaning do as much stuff that you can on campus and try to join clubs and don't just go to practice and class and then go home."
With Siena being such a small school, she said it's almost impossible to not have any friends. Bishop also stated that if a student just likes to just go to class and practice and then just chill in their room all day, then they might not have a great experience at Siena. Basically at Siena, if a student after one semester has no friends, then she said that's on them, because there are plenty of opportunities to make friends and build connections with people.
Bishop had other college offers, but something about Siena just stuck out to her.
Bishop said, "For me, it was mostly the soccer coach for one and I liked the vibe of the teachers and how all of the coaches value education."
She said she also liked the city of Adrian, as it feels safe and the community supports Siena.
Leave a Comment