Griffin Nursing Back to Health for Fall Season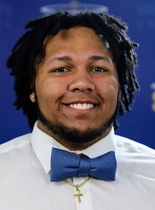 Terrell Griffin is a fifth-year senior on the Siena Heights football team. Griffin is currently majoring in nursing with a minor in biology.
He is from River Rouge, Mich., and transferred to Siena back in 2017 from Lake Erie College in Ohio. Griffin also started in the first game of the year of 2019 for the Saints on the offensive line, but suffered from a torn ACL in the third game of the season and was a coach during this 2020 season.
Griffin has been playing football for roughly 14 years now and counting. When asking Griffin why he came to Siena, he said he, "came on a visit and really liked the team chemistry and it felt very family-oriented."
When it comes to why is it important to be on a sports team, he said, "I feel like being on a team helps young people to mature fast and it teaches life lessons such as working hard and having a goal."
When asked about what he thought he would be doing if he was not playing a sport, and he replied with, "Honestly bro, if I never played football, I would still be back at home, not in college, and working a factory job from 5 a.m. to 12 p.m."
Griffin said that "football is one of the only reasons that he is in college." He also said that football is "what he turns to when he is dealing with depression," saying that, "I can just be myself you feel me. I can do me."
When asked if he thinks that people who play sports have an advantage over people that do not, he said, "Young people that do not play sports might not know what it feels like be around people you may or may not like and try to accomplish the same goal, which is winning."
Griffin said he is slowly but surely recovering from his ACL surgery by going to physical therapy weekly and should be 100 percent healthy and back on the field by September.
Griffin has plans of graduating as a nurse, and already has a job set up as a nurse at a hospital in midtown Detroit.
Leave a Comment