REVIEW: 'Death by Rock and Roll"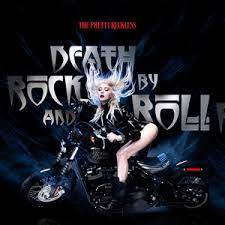 The Pretty Reckless released their newest album "Death by Rock and Roll," on Feb. 12. Their first debut as a band was in 2008.
They may not be famously known as a group, but the lead singer surely is. Taylor Momsen was previously an actress before deciding to take on the rock world. You may not recognize her now, but Momsen played Cindy Lou Hoo in The Grinch as a child.
Or you may be wondering what happened to Jenny Humphrey from Gossip Girl. Well, she turned in her sowing machine for a guitar.
I found The Pretty Reckless years ago, and was blown away when I learned that Momsen had previously played these roles. She has done a complete 360 turn from the innocent roles, and has flourished into the badass chick that she is to this day. Momsen said she switched careers because music is what has always made sense to her, and it's what has brought her the most joy.
"Death By Rock and Roll" is the first album the band had released in a few years. The band took a break to mourn the death of two of their friends. The first was in 2017 when they were on tour with Soundgarden and the great Chris Cornell tragically died from suicide.
Then the following year they lost their friend and producer, Kato Khandwala. It is actually Khandwala's footsteps that can be heard at the top of the album, and the closing track Harley Darling is a tribute to him.
The band may be grieving the loss of their loved ones, but this fourth album release is their rebirth. It's bewitching, raw and sounds completely original, as they stay true to Khandwala's recipe of mixing grunge with classic metal, with a touch of country rock to top it off.
I can honestly say that I have not heard another band mix or write music the way that The Pretty Reckless does. Previous albums that they have released have been great and are good. But this one tops them all. They really found and developed something unique with in themselves for this album.
The first time I listened to the album, I was instantly hooked and listened to the album for weeks on end. I could just feel the emotion, the pain and relate to every word. I was hanging on the end of every note, drum beat and guitar riff. I just couldn't get enough of it. They truly found something and created a masterpiece.
Some of the best songs from the album are "25," "Death By Rock and Roll," "Harley Darling," and "Rock and Roll Heaven." Let me tell you, if you are a die-hard Rock N Roll fan and lover, "Rock and Roll Heaven" is the song for you. It describes every experience, moment and feeling that a rock-and-roll lover goes through when they find that song or band that draws them in for good.
Even if you grow out of the rock-and-roll phase, there will always be that one band or song that can still draw you in and stick with you for the rest of your life.
You might not even be a fan of rock-and-rock music, or music along the same genre. But give this album a listen and it just might change your mind. If not, that's fine. Sometimes rock isn't for everybody.
My reviews may always seem like I am hyping up the artist or the song. But if there was one song or album that I was given the chance to listen to one last time before I died, it would be this album and the song "Rock and Roll Heaven."
View Comments (1)