Artz Returns to Alma Mater to 'Give Back'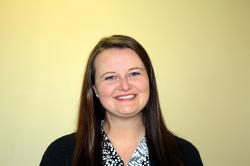 Making dreams come is just a day in the life for alumni Liz Artz, director of Student Engagement at Siena Heights University.
Arts graduated from Siena in 2009 with a degree in Business Administration with an event coordination concentration. After Siena, she went to Central Michigan University for a master's degree in Educational Leadership with a concentration in Student Affairs.
She said she is excited to be back at Siena on campus and be able to give back to the school that she loves. Aside from making dreams come true, a day in the life of Artz involves coffee (large Avalanche hot with an extra shot from Biggby, if you want to get on her good side) and planning activities for students to enjoy.
Her ability to plan activities came naturally to her. She was even planning events when she was a student. She said the favorite event she planned was "Best Pizza in Town." She convinced local pizza places to donate pizzas and students could try a piece from each place. The students then voted for their favorite pizza and elected a Best Pizza in Town.
This ability is part of what made Welcome Week 2021 such a success. Some students believed the best part was the hypnotist. Apart from the success of Welcome Week, she said it was also stressful. But she said it gave her insight into how to alter the schedule for future years to make things run smoother, and she was able to see more of what to do and what not to do.
"The orientation team this year was great, which was a surprise because when I came, we did not have one yet," Artz said. "These students worked well together and helped me pull off the event, even with the team members changing regularly."
She said her inspiration for the activities she plans come from what she sees students doing in their free time and tries to bring that to campus. One example is all the sunflower pictures she has been seeing on Instagram, so she planned a trip to Gust Brothers Farm on Sept. 10 so students have a chance to visit a sunflower field.
Another thing that she sees students enjoying right now is food trucks, which is why she has implemented, and is most excited about, is Food Truck Fridays.
"Food trucks seem to be something everyone is seeking out lately, so I wanted to bring them to campus for students," she said.
So, from 1:3-4 p.m. Friday Sept. 17, Maria's Sunnyside Café will be in the food stadium parking lot for students to enjoy.
Artz said she is excited at the turnout of the events she is hosting. She said she feels like COVID has made many students ready for activities again and her event turnouts have been encouraging.
And if things go back online, she said she is prepared to continue hosting events virtually. She also said that she is trying to make events now as COVID friendly as possible.
"For example, tonight we will have two bingo locations, so we don't have such large groups gathering in one area, but everyone can still participate," Artz said.
Those whowant to stay up to date on events, follow @shuengage on Instagram for updates on what's happening on campus. The Office of Student Engagement is also still looking for a first-year student to work for the office. Those interested, please email Artz at [email protected].
View Comments (1)