Legacy Room Hidden Gem on Campus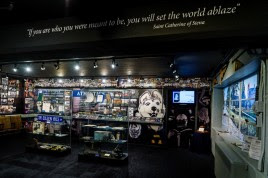 Ever wondered how the Siena Heights campus looked 100 years ago?
Siena Heights University has been opened and operating for over 100 years. It is almost unimaginable how much has changed since the doors opened in 1919 by the Adrian Dominican Sisters.
Although it is hard to imagine what Siena used to look like, there is actually a room on campus that brings people back in time. This room is called the Legacy Room. The Legacy Room is located inside the Library on campus.
After walking into the Legacy Room, one is greeted by the campus's biggest historical accomplishments as well as notable people within the history of Siena Heights. There are also pictures of what the campus used to look like, as well as unique memorabilia such as a time capsule found when the building Sage Union was torn down, and so much more. It is nearly impossible to walk in the room and not be amazed by all the history this campus has to offer.
Those who have never been in the Legacy Room is strongly encouraged to do so before graduation. After all, students are a part of Siena's legacy.
Leave a Comment