Jerrell Martin Reaches 1,000 Career Point Milestone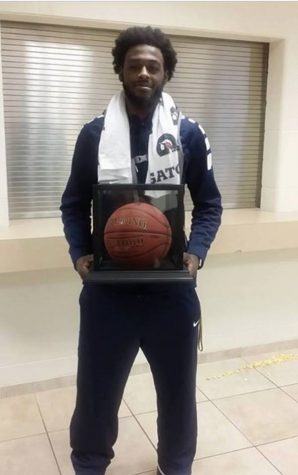 Siena Heights University men's basketball senior captain Jerrell Martin became the 37th player in program history to reach the 1,000-career point milestone on Jan. 14 at Indiana Tech.
"I had no clue I was that close. I thought I had a few more games to go," said Martin.
He mentioned that someone who played on the team last year with him was at the game and came up to him after and told him congratulations.
"I had no idea what he was talking about," Martin added.
It was not until the next day he learned what basket it was that gave him his 1,000th career point. He was moving towards the basket when Kevin Smith passed him the ball and he converted an "and-one" layup. It was the shot leading up to the foul that gave him his milestone.
"It means a lot," said Martin. "This is the biggest accomplishment I have achieved in my life, so I'm very blessed to get there."
On Jan. 21, the Saints hosted Michigan-Dearborn. Prior to the game, there was a ceremony were Martin received a Spalding 1,000 basketball in honor of him reaching this milestone. Martin had his family in attendance, and he said that it "meant a lot" to him to have them there.
Martin said he loves making them proud, and that they have pushed him into who he is today.
"Putting a smile on their faces is what makes me happy," he said.
So far this season, Martin has started in every game, and currently leads the team with 12.4 points, 6.7 rebounds and 1.3 blocks per game.
The Saints next home game will be on Jan. 30 against Wilberforce. Tipoff is 7:30 p.m.
Leave a Comment