Siena Heights Student-Athletes Make an Impact Around the Nation
Siena Heights is a world-class university that is well-known for the students excelling in academics, high-profile sports teams and even work throughout the community.
Recently, one Siena Heights team decided to make a difference. This time it would be in a different state. The women's soccer team traveled to Alabama to play a game, and they stopped at Walmart to pick up some snacks. What happened next was pretty incredible.
As the players loaded the Siena Heights bus, they noticed a woman and what looked like her daughter standing by the doors. The little girl looked very hesitant, but it seemed like she had something to say. The mom and daughter eventually reached out to some of the girls.
However, one Saint decided to make this little girl's night. Sophia Lentz, sophomore goalkeeper, noticed the young girl was wearing a soccer shirt and decided to introduce herself. It turned out the little girl's name was Sofia as well and she plays goalie too! Lentz mentioned that meeting this little girl had reminded her of when she was younger.
What was special about this is, the young Sofia not only got a picture with Lentz, but the whole women's team came off the bus to take a picture with her! This made her night and the team's as well. Lentz said that it felt amazing to make this little girl feel so welcomed, and how this kind act was able to show what Siena Heights is all about. It's not just about the sports, but how we can make a difference in the world as small as this.
As the team was leaving, little Sofia stood right outside the bus smiling and waving goodbye. It had brought tears to Lentz's eyes knowing they made this little girl so happy, acting as great role models for this little girl.
This even made a lasting impression on the father of the little girl, Ed Sasan. He took the time to write to the school, letting them know about what the team had done, and the impact they had made on Sofia.
"What they did for my daughter (Sofia) was such a blessing in disguise. Sophia is still in awe," Sasan said.
This was just one of the small actions that goes a long way, even sometimes without notice. Obviously, sports are a lot deeper than the game itself. Below is the picture of Lentz with Sofia Sasan.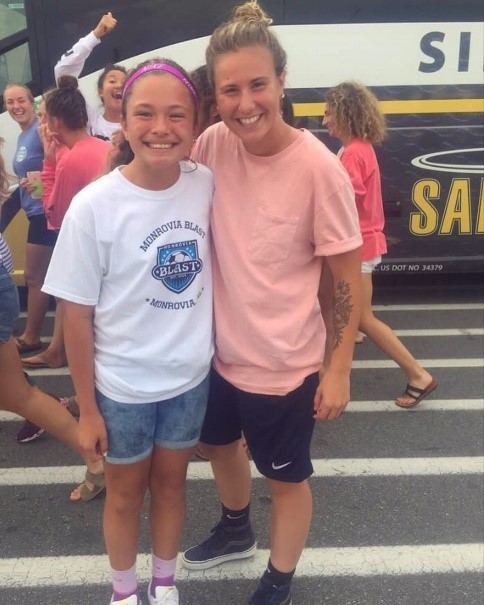 Leave a Comment