Athlete of the Week: Santangho Reynolds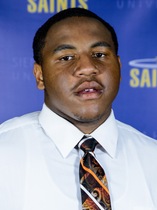 This week's player of the week goes to Santangho Reynolds, a redshirt freshmen from Detroit, Mich. Reynolds played in his first Homecoming game Oct. 6. He recorded five tackles and three quarterback hits. Also, he was in on a goal line stop that helped change the game.
With a starting defensive tackle being out and Reynolds being his replacement, the Saints defense didn't miss a beat. He made it tough for the opposing team to run the ball through the gaps. Reynolds is off to a great freshman season and he said hopes to continue to taking care of his assignments.
"I'm just happy we won Homecoming," he said. "We didn't win last year so I just wanted to be a part of this win on this special day."
Reynolds said he's not worried about the stats; he just wants to win and do his job.
The Saints will take the field again Oct. 13 to play against the defending national champs Saint Francis University. The Saints are 5-0 and hope to keep the streak going.
Leave a Comment