Training from Home: Ian Williams Stays in Shape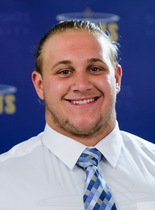 As of today, it has almost been a month since the president decided to close everything down, including gyms and ordered a stay-at-home order.
With all gyms being closed, athletes have been forced to work out from home and try to find creative ways to work out. Siena Heights football players said they have found ways to still get a good workout even without weights and equipment.
Some players said they are mostly getting a lot of cardio by doing things like running and sprinting in the back yard or on the sidewalk.
One player, in particular, posted his entire workout routine online. Siena Heights' starting offensive right guard Ian Willams said his upper body days start off with a light jog around the block, and then consists of 200 push-ups, 200 bicep and tricep curls (25 pounds), 200 shrugs (35 pounds) and 100 shoulder presses."
Williams said his lower body workouts consist of 15 10-yard sprints and 200-300 calve raises and 100 jump squats. He said he finishes every workout with some sort of 15-minute ab workout, and then another light jog around his neighborhood.
Williams said he has even lost a little bit of weight in these past three weeks, dropping from 310 to 295 pounds.
When asked about why has been doing so much cardio, he said,"I mean, yeah, I'm a lineman, and we are supposed to be fat. (But) we still have to be able to move quickly."
Williams, much like everyone else, said he is excited for this virus to be over so that he can go back to the gym and enjoy the beginning of summer, and get ready for the 2020 fall football season.