REVIEW: Chomp Burger – The Best Burgers in Town?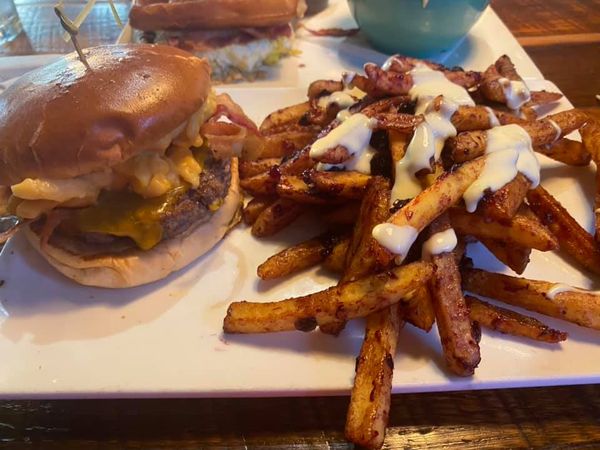 If you are looking for a place to get a good burger and don't mind paying a bit more, you may want to try Chomp Burger in Adrian. Chomp Burger has a large variety of different burgers – and you can build your own.
You might want to try one of their signature burgers because you may not think to add an egg or mac and cheese to your burger on your own.
During my visit, I ordered two burgers. One was called the "Napoleon's Waffle." This burger had beef, American cheese, bacon, and a fried egg.
Instead of a normal bun, this burger was served on a deep-fried waffle and they also give you maple syrup on the side! If I could rate this burger 11/10, I would!
The other burger was just as wonderful. It was called the "War of the Mac Burger." This burger has a beef patty and cheddar cheese, and it also is topped with their amazing mac and cheese. It does cost extra, but I decided to add bacon as well!
Both burgers were excellent. The person I dined with got the baked potato soup for his side, and he loved it.
I got the blueberry and brie fries. I had never heard of these fries, and I wanted to try something new (although, it was an extra $3 and some change). I ate one fry and was not a fan of them. Our server noticed I barely touched the fries and took them off the bill! She was a wonderful server.
The COVID-19 precautions are similar to other restaurants in town. You must have a mask on when you are not sitting at your table. Tables are spaced out to maintain social distancing, and the outside patio is available for seating!
Overall, the service was great, the food was phenomenal, but the prices are a bit high. I would definitely recommend Chomp Burger to anyone!
COVID-19 Precautions: 10/10
Overall Experience: 8.75/10