Oliveira Stands Tall for Siena Heights Soccer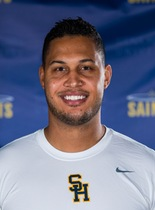 One student-athlete is a little different and is from a very faraway place in North America. Most athletes who are over 6 feet tall play sports like basketball or volleyball and sometimes even football. It's not often that you see a 6-foot-5 soccer player but the men's soccer team has one.
Cezar Felipe Oliveira is a sophomore and one of many international students on the men's soccer team at Siena Heights. Oliveira is from Rio Grande, which is a state in the south part of Brazil. In the beautiful country of Brazil, soccer is more than just a game: it is a way of life. Going to a soccer game in any city in Brazil is a big deal from pro to youth.
He started playing soccer in 2002 for a local youth academy in his city. Oliveira is technically a sophomore in the classroom, however, this is his first year playing a sport at Siena.
When asked about why he chose to come all the way to the United States for school, he said, "Most international students have an agent or someone that works (to) keep in contact with for things like sports clubs and universities, and my agent was really good and he actually helped me discover this school in this little city."
His agent sent the videos of his game film to many coaches in America and then the Siena soccer coach Drew Crawford reached out, and then he got an athletic scholarship for soccer.
Oliveira faced some adversity when he first got to Siena, as he was not fluent in English. But he said his friends on the team and his agent helped him a lot.
Coming to Siena worked out perfectly as Oliveira wanted to major in chemical engineering and Siena happened to have that exact program. He said he also was very scared when he first arrived at Siena because he was in a new place, didn't know anyone and barely spoke a lick of English.
As of today, it has been one year and two months since Oliveira has been home in Brazil. He said he misses his family as most college students do. However, he expressed that he knows that coming to the Siena was one of the best things that he could have done for his future.
Now it's different, as he has a new home, is becoming better at English every day and has new friends, and even a girlfriend, and is looking forward to set his career up.