Green Has Big Plans After Football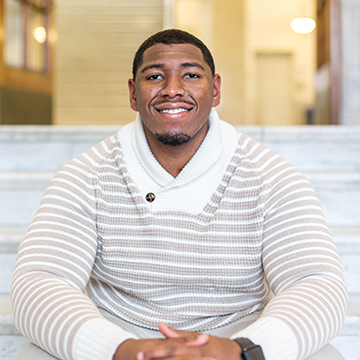 Over the years it seems like the Siena Heights football team always brings in a unique group of young men who are talented on and off the field.
For athletes in the NAIA, being a professional football player is not really often a realistic goal. There have been players who have gone to the NFL out of an NAIA school, but it's rare. So with that being said, when one comes to an NAIA school, he needs to be planning a career direction.
Players like Kendrick Green are great role models that young players coming in can look up to. Green is currently a senior and a double major in political science and Spanish.
Green was born in Flint, Mich., but grew up in a nice suburb area right outside of Flint. Grand Blanc is a very diverse area, and Green said, "it's an upper-middle-class melting pot that has every race."
Green said he fell in love with the game in third grade.
"My dad really just wanted to get me and my brother out of the house, so he took us to a few high school practices," he said.
Surprisingly Green said his first love was actually basketball, but after he realized that he wasn't going to be 6-foot-5, football seemed a lot more realistic.
He has played multiple positions, including linebacker and running back, but he fell in love with the defensive line position in high school at a football camp his junior year.
Green is an inside guy on the line, either playing the nose guard position or a three-tech, which is also known as a defensive tackle. The only real difference between this position is the nose guard normally lines up right over the center on offense. 
When asked about what made him choose Siena, he said, "I really didn't have many college offers and I got a call from a coach at Siena and it was up from there."
Green said he has had many memorable moments in the game of football, but his greatest moment was when he went to a lineman camp in Ohio in high school and dominated a a 4-star all-American prospect who was committed to Michigan State.
This camp had multiple "power five" schools like Ohio State, Florida, Ole Miss and Michigan State, so dominating a future Division 1 player was a great feeling.
An interesting fact about Green: he plays the violin.
"Honestly I feel like I was pretty good, and honestly I got an art scholarship to an art school but I didn't pursue it because I wanted to play football so bad."
After college, Green said he plans to eventually run for president once he's eligible.
"My main focus would be making affordable education for everyone. It's not fair that some kids have the smarts to go to college but can't afford it," he said.
Green will graduate in May and might possibly come back for a fifth year to play one more season of the game he loves.