Saints Maul Madonna, 65-0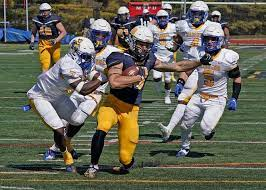 On Saturday, March 20, Siena Heights Saints fans witnessed a wipeout in Adrian at O'Laughlin Stadium. The Saints came into this game 1-2 and were coming off a big win against Lawrence Tech and ready to win again. The Saints were picked as a favorite to win this game against Madonna, but no one anticipated the game to end in a 65-0 victory.
Grand Valley State transfer Eric Williams had a phenomenal game where he had three receiving touchdowns for a total of 116 yards.
In the first quarter during the first drive, Siena's offense drove the ball down the field and was on the one-yard line, but could not score. This early sign of adversity would not affect the Saints, as the defense came on the field and got a big turnover.
Madonna's quarterback was running for his life in the endzone and was pushed out of bounds. However, Madonna had a holding call which resulted in a safety and added two points for the Saints.
After that catastrophe by the Crusaders, the Saints drove the ball down the field, and Tyler Knecht connected with Williams for the first touchdown of the game.
The rest of the game would not get any better for Madonna, as it could not score a single point. The Saints were up 44-0 at halftime and the Saints were pumped going into the locker room.
To add insult to injury, the Saints tallied on an additional 21 points in the second half. As good as the Saint's offense was, the defense only allowed the Madonna offense 47 yards and seven first downs.
Top stories of the game: the starting senior H-back got injured and Aaron Bellamy, a freshman, got to go in the game and is currently the starter and had two receptions.
With the Saints getting such a blowout of a win, it allowed the coaches a chance to get some of the backups and young players a chance to get in the game and get some experience. Speaking of experience, there were over 60 players that got in the game and got reps, and half of them were freshmen.
The top players on offense were quarterback Knecht, who had 205 yards passing. Workhorse running back Jamon Benson ran for 91 yards and the Player of the Game Willams had 116 yards receiving.
On the dominating defensive side linebacker Kole Murlin led with 12 tackles. Hayden Sluder had six tackles and Drew Loria added five.
Note that Madonna is in its first year playing football, and this is only its second game ever.