REVIEW: Basil Boys: The Best Breadsticks in the World
If you have not tried Basil Boys in Tecumseh, Mich., you are missing out. This restaurant has the best breadsticks in the world.
Of course, they sell more than just breadsticks, but these garlicky soft breadsticks dipped in their phenomenal homemade ranch is what they are known for. They also sell pizza, a variety of salads, lasagna, wings, etc.
During my visit, I ordered a full bag of breadsticks, a small pizza with ham and bacon on top, and a 16oz of their ranch. The total came to just over $18. If you just want to try the breadsticks with ranch, you can do so for less than $5. Their prices are very inexpensive.
The service is also great at Basil Boys. The workers are always friendly. Unfortunately, they have closed their inside dining room for the time being; however, they do offer outside seating. Otherwise, you will have to take your goodies to go.
Another precaution they are taking because of COVID-19 is having a mask on. The employees wear a mask, and they ask their customers to do the same.
One awesome reward program they have is their punch cards! Make sure to grab one when you visit, because they do pay off eventually. Each time you visit and make a purchase of $5 or more, you can get your card punched.
After 10 punches, you get a free item! They give you options such as a free small pizza or a free sandwich. I highly recommend you try this small, local pizza place. You will not be disappointed.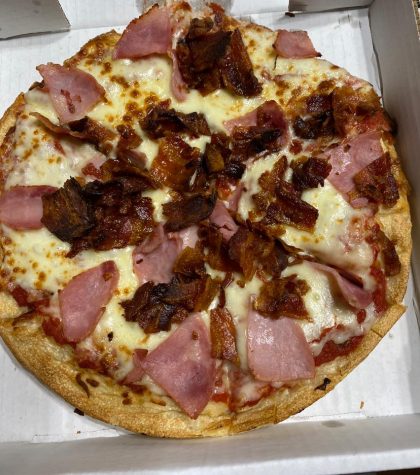 COVID-19 Precautions: 10/10
Overall Experience: 10/10