McCarthy Has Goal in Mind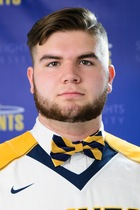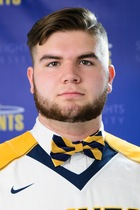 Alex McCarthy is a sports management major and currently a member of the Siena Heights University men's lacrosse team. He is currently the starting goalie and a senior leader on the team.
The 21-year-old has plans to one day work in real estate with sports. McCarthy is also from Rochester Hills, Mich., and went to Rochester High School.
In high school, McCarthy started off playing football as a tackle on the offensive line and then started playing lacrosse later. In middle school, while he was playing football, he went to his cousin's varsity lacrosse game, which is what sparked his interest in playing lacrosse. With lacrosse and football being at two different times during the year, he was able to play both and did up until high school.
When McCarthy was a sophomore in high school, one of his best friends and teammates passed away from cancer. He said that was hard, as he had to deal with a friend who was out of his life.
As freshman at Siena Heights, McCarthy played in two games, but only started once and made 13 saves while facing 40 shots. During his sophomore year, he played in five games while making three starts. As a junior, he started all 11 games averaging 62 minutes per game.
His mother, father, and sister all still currently live in Rochester along with his two dogs.