Charles Cain Completes a Decade at Siena Heights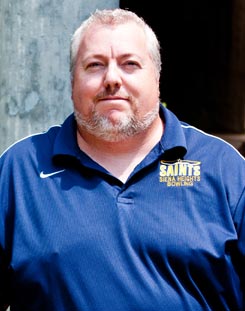 Throughout the years, Siena Heights has had a large number of great coaches who have been here for quite a long time. Some people might think that it's hard for one coach to be able to coach both men's and women's teams, but for coach Charles Cain, it's no burden at all. He said it's more of a privilege. 
Cain has been the men's and women's bowling coach at Siena Heights University for more than 10 years. He is very knowledgeable in the sport of bowling as he is certified in the United States Bowling Congress.
Before he started his coaching career at Siena Heights, Cain was a coach at the University of Michigan's club team. He also spent some time in Livonia, Mich., at the Woodland Lanes as he led his team to a USBC state championship. 
Cain has also won a WHAC bowing Champions of Character Coach four times, and is and has been a vice president for the NAIA Bowling Coaches Association. In 2009 Cain was selected as the Coach of the Year in all of metro Detroit.
Cain, entering his 11th year at Siena, said he is ready for his team's fourth conference jamboree of the 2021 season.