Spencer Macek: From Player to Coach at SHU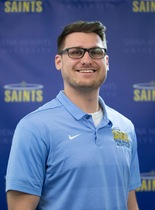 Over the years there is one sport that seems to be growing all over the country and that sport is lacrosse.
Over the years, this sport hasn't gotten much media attention on stations like ESPN/Sportscenter and NBC. Siena Heights has been having a lot of great players go on to do big things in the world after they graduate.
Lots of players go on to be very successful in whatever field they go into, and some players become successful while sticking around Siena.
Former all-conference attacker and 2016 graduate Spencer Macek is now the interim head coach for the men's lacrosse team. Macek is a Michigan native from Macomb County in the city of Brighton in a suburban-type area. He was introduced to the sport of lacrosse at a young age when his mother saw a flyer for a new sport.
Macek was quite the athlete, as he played every sport growing up. He said he discovered his love for the game when he was a sophomore in high school and got moved up to varsity.
Macek was the only sophomore that got moved up to varsity that year. He was very surprised as the upperclassmen took him under their wing and helped him get better every day.
When asked about what Macek looked for when he's recruiting, he said,  "If I'm going to watch a high school to watch a player I will typically sit in the stands so they don't know I'm there because I want to see what they do when they have adversity hit."
Basically he said he wants to see what his future players will do when they think scouts aren't there.
Macek was also asked about a time that he might have face some adversity as a player, and he said, "When I was a sophomore at Siena, I actually tore my ACL and had to sit out the rest of the season. And it really got to me, as I was used to being on the field playing and not watching."
He said this was a very hard time for him, but instead of being negative, Macek embraced this injury and became somewhat of a student coach. He said this was a great experience.
It was kind of weird at first as I went from top scorer on the team to top motivator on the team," he said
Having been a former player and now a coach of this same team, what has been more fun? . In his opinion, it's almost impossible to compare. However, if he had to pick one, it would be being a coach.
He said, "I love coaching because having an impact on someone's life a much better feeling than scoring a goal."
Watching a player grow and mature and go on to be successful husbands and fathers and own successful business is something he said he relishes.