Thompson Makes Transition from Player to Coach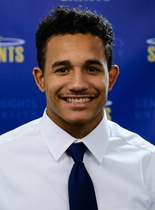 Cam Thompson, a senior in the Siena Heights University football program, has been playing football since he was 8 years old.
Thompson grew up in Ypsilanti, Mich., where he attended Ypsilanti Lincoln High School. Thompson played quarterback in high school, but once he stepped foot on campus, he was moved to wide receiver.
Two weeks ago, the Saints dropped a very competitive game one against Olivet Nazarene, a nationally ranked team that the Saints had to play on the road. Thompson mentioned that "the focus after the loss is good."
He also said that he wished that a few more plays would have gone in favor of the Saints, but that is football.
Thompson, now a receivers coach, said that, "we seem to be really focused this week during practice for a cross division matchup against St. Xavier." 
In the coach's eye, Thompson said he believes that this team's biggest strength is playing for one another. He said the program has shifted cultures and the program is heading into a great direction where the players are playing for one another.
In all the years that Thompson has been playing football, he mentioned that it has taught him two things.
First off, "Anything that has a reward has sacrifices," And, also it is "the ultimate team game."
Thompson said his favorite football moment was in 2019 when Siena Heights pulled off a huge victory on the road against St. Francis of Indiana. They were the No. 5 ranked team in the country, Thompson stated that "it was raining the whole game. The atmosphere was amazing, and we came on top for the first win over a top 5 team in school history."
On Sept. 18 at noon, the Saints will take on St. Xavier in the home opener.
View Comments(1)