Paczas and Saints Off to Hot Start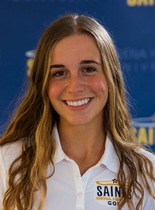 This year the Saints women's golf team has been off to a hot start, already winning two tournaments.
The Saints have been led by sophomore standout Megan Paczas, who already has an individual win and a second place finish overall. Paczas has been golfing since she was 5, but said she did not start competitive golf until high school. Paczas, who is coming off a terrific freshman campaign, said she trained very hard in the offseason. And her improvements are on full display this season.
During the summer, Paczas stated that she "would practice every other day during the summer. I worked on my short game for about an hour-and-a-half every time I practiced, which has helped me the most this season." 
This season, Paczas mentioned that she is looking forward to bonding with her teammates and seeing what they accomplish both personally and the team as a whole. Paczas said herpersonal goal this year is to go out and shoot a personal record every time she gets out to play. If Paczas does not hit her goal, she mentioned that "I just hope to score better than last season."
For Paczas' team goals, she said she hopes that everyone keeps a positive attitude on and off the course. In every tournament, Paczas said she hopes that everyone tries their best and comes in with a winner mentality. 
Outside of golf, Paczas' said her experience has also been terrific. She mentioned that her teammates are her best friends and that her coaches are her inspiration. Paczas stated that "We are all lucky to have each other."
As an individual sport, Paczas stated that "we count on each other so much for motivation and support." 
With big tournaments coming up, the Saints look to continue their current success as the season progresses and the bigger fall tournaments are looming. Paczas said that the best way to continue success is to practice hard every day and practice what your weaknesses are even more. Golfis such a mental game and can make things out on the course very frustrating, she said. Paczas mentioned that it is very important to keep a level head while out there on the course, and that her best rounds are when she goes out with confidence.
Leave a Comment