Women's Soccer Look for Late Season Push Into The Playoffs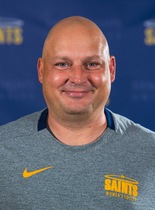 Siena Heights women's soccer has gotten off to another great start this year. Currently the Saints sit at an 11-4-2 record.
Coach Scott "Scooter" Oliver has mentioned a lot of great things about this team and how they have been successful this year. In a year like this, it is always important to handle success the proper way.
Coach Oliver stated that "we try to just stay focused on the next task at hand."
Oliver also mentioned that every opponent that the Saints play is a good team, so it is important to just keep pushing forward and stay in the moment, he said.
The Saints know that the success of the team will come down to conference play, and the last few weeks of the schedule to try and get in a good position come playoff time.
Oliver stated that all the best teams come at the back end of the schedule. The rest of the games that the Saints will have in the regular season will give the Saints a chance to improve come playoff time, and that is what coach Oliver really looks forward to as the season ends. 
Every year, the Saints seem to do a really good job of reloading talent after yearly departures from the program as seniors graduate. As the Saints are sitting in a great spot with their terrific record, there have been a bunch of standout freshmen who have done a great job of contributing.
Coach Oliver stated that he has been very pleased with Kennedy Hyde and Sarah Ammon, two freshmen who coach Oliver has mentioned have been "outstanding." Other freshmen who have positively contributed have been Kayla Rivers and Alyssa Fisher, who have provided a lot of quality minutes. 
With an 11-4-1 record, coach Oliver said he is very pleased with how things have gone up to this point this season. Oliver stated that he is very happy with the passion the girls have had up to this point in the season.
Oliver mentioned that "this team knows they are good, the passion shows up and keeps driving us forward."
With four losses up to this point, the Saints have done a great job of bouncing back after setbacks. Oliver stated that the next step he wants to see this team take is beating some of the better programs. The four losses have been really close and in heartbreaking fashion. The last time the Saints played a highly ranked team was number 11 Aquinas, and they lost 1-0 as a result of a penalty kick that Aquinas was able to convert. 
In all the teams that Coach Oliver has coached, he mentioned that this team is always just fun to be around. That is what Oliver said when he was describing his favorite part about coaching.
Oliver said that "they have so much energy and spirit."
The Saints have created a culture, and Oliver stated that it is really a joy just to be with them in every setting the team is in. With some big games coming up to close out the regular season, Oliver mentioned that playing every conference game has a different back story to it and a different gameplan.
Oliver said to prepare for those games, "just taking the games one-by-one and case by case is our approach."
Oliver tells his team to worry about what you can control today through attitude, energy and effort.
"Let today prepare us for tomorrow," is what coach Oliver stresses to his team. 
Not only have the varsity starters contributed, but the JV team has been spectacular as well. They currently hold a 6-2 record and have a ratio of 25 goals scored to 7 goals given up.
A lot of players on this roster are players that could be seeing the field on varsity soon, especially the freshmen as well as everyone else on the JV roster. Oliver stated that they have really shown a lot of effort and development.
"We are very excited about that group of young women and how that will play into the future success of our program."
Coach Oliver said he is very excited about what he is seeing out of his reserves because of the depth that they provide.
Leave a Comment