Mumby Looks Forward to First Tournament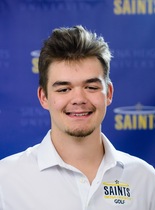 Chris Mumby, a freshman on the Siena Heights golf team, has been working tirelessly to put himself in the best possible position to help him be successful despite the injuries.
Mumby came to Siena Heights to continue with his golf career. He said has been pleased that he has been able to "join a team with welcoming players and coaches." Developing chemistry between players and coaches is something that Mumby said he has been very happy with once stepping foot on campus.
As the season is nearing an end, Mumby will finally get an opportunity to play in his first collegiate golf tournament. Mumby has been dealing with a shoulder injury throughout the beginning to the middle of the season and now he is ready to play in his first tournament, which is a 36-hole tournament.
When talking about his mindset leading up to the tournament, Mumby said, "I would say I'm ready but definitely a little nervous for my first tournament as a collegiate golfer." S
ince walking onto campus, Mumby said he has worked a lot to get back into tournament form with Graduate Assistant Andrew Ioanou. With the season nearing an end, Mumby mentioned that this offseason, "I plan to improve my game immensely throughout the offseason to hopefully be a contributing player come spring season."
The one thing that Mumby has stated that he has really improved on since he has walked on campus, has been his short game. This is something that Mumby has been very happy with and this is something he can definitely build on while he tries to gear up for the spring season.
View Comments (2)