Panama's Ellis Continues to Improve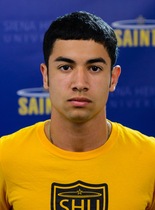 Jorge Ellis, a freshman on the Siena Heights men's soccer team, was recruited by Siena Heights when he was working with an agency.
Ellis has been playing Soccer since he was 5 years old. And when he decided that he wanted to pursue his dreams of playing soccer at the collegiate level, Ellis was contacted by an agency who works with international students. They put him in contact with SHU head coach Drew Crawford. Ellis is an international student from Panama City, Panama, and committed to Siena Heights after he was in contact with Coach Crawford.
Since stepping onto campus, Ellis said he has really enjoyed being on the team because he gets to practice with his teammates every day and gets to play in two games a week.
Ellis mentioned that "my biggest improvement this season by far has been my confidence, without a doubt."
As a freshman, confidence is something that all freshmen can work on once they enroll in college. In Ellis' family, Jorge was the only one to have ever played soccer. Ellis mentioned that "my father used to play soccer but just as a hobby."
Ellis' father however, was the one who inspired him to play soccer when his father taught him how to do basic soccer skills, like how to shoot the soccer ball. 
In high school, Ellis was in the starting lineup since he was a freshman, where he won nationals in high school his first season. In his sophomore season, he finished second in the national high school tournament.
In Ellis' senior year, he was the captain of his team.
When Ellis was describing his home country and the city he grew up in, he mentioned how, "It was so nice I truly love my country and how I lived my childhood there."
He said the game of soccer has taught him a lot. It has taught him, "to be responsible, organized, a good teammate, discipline, and to fight for what I want."
Ellis said what he loves about his position is that "you have a lot of action during the game."
Now that the season is over, Ellis is now in offseason training, where he will look to improve this offseason. Ellis stated that "my goals after the season ends is to improve my physique and my fundamentals in soccer."
On top of that, Ellis wants to put a focus on improving his headers, because he believes that is his biggest weakness, as well as his defense.
Overall, Ellis said he has had a great start so far in his career and looks to build off of it as his career of being a college soccer player continues. 
Leave a Comment