Trading Places: Mong Moves from Catcher to Pitcher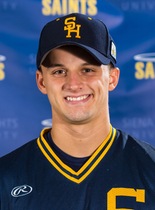 Collin Mong, a junior on the Siena Heights baseball team from Rochester Hills, Mich., has put in a lot of hard work this season to put himself in a position to have a big-time season on a more veteran squad.
This year, the Saints have a lot more seniors to rely on, which will allow them to learn from their mistakes from a season ago, where the Saints finished with a 9-28 record. With a lot more juniors and seniors returning, the Saints will be looking to improve in the upcoming season. 
Mong, who hopes to be a big-time contributor on this year's team, has been playing baseball for 15 years. He said the game has really meant a lot to him because he has been watching baseball his whole life.
This year has been and will continue to be a big year for Mong as a result of a position change from catcher to pitcher. Mong mentioned that "it is refreshing because all of the stress my body went through when catching." As a catcher, Mong took a lot of physical punishment, and all that wore Mong out, which allowed for a position change to relief pitcher.
As for changing to pitcher, it was not an easy process. Mong said he needed to learn how to throw the offspeed pitches properly and how to deal with the arm pain that comes from pitching, too.
As for what Mong wants to accomplish this season, he said how it will be important for him and the team to be consistent. Mong said as a result of him changing to pitcher, he himself needs to be a reliable relief pitcher for the Saints. He said he needs to keep his arm healthy and always ready to go.
Mong said he wants the team to win the Wolverine-Hoosier Athletic Conference, and that is his main goal for the team this year. The Saints first game of the season will be against Taylor on the road Feb. 18.  
Leave a Comment