Duffy Still Has Golfing Goals to Reach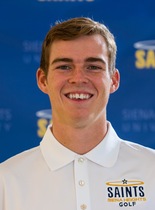 Colin Duffy, a Pinckney, Mich., native, has been golfing for 15 years. Duffy was a multiple-sport athlete, playing basketball in high school along with golf.
Golf was not Duffy's first love: basketball was. He played basketball his whole life along with golf, and Duffy said that basketball has helped him become a great collegiate golfer. Duffy mentioned how "you are your own downfall." Like golf, it requires a lot of mental toughness because if shots are not going your way, you must have a really good attitude to push through.
Duffy found out that golf was his sport when he shot an 82 in a big youth tournament, andfrom there his career took off.
Duffy attended Pinckney High School, where he graduated in 2018. In high school, Duffy missed the MHSAA state tournament three years in a row as an individual. He said those heartbreaking shortcomings are what motivated him to play at the collegiate level so he could chase what was still out there.
Duffy, who is studying psychology, said he wants to become a therapist who works with children regarding clinical psychology.
On the golf course, Duffy and the Saints had a terrific fall season. The Saints did not perform their best at the WHAC Fall Preview, however, they did a great job winning multiple tournaments.
As for Duffy, who is a captain of the Saints golf team, said he wants to surprise other opponents and "really crush some teams." As for Duffy's personal goals, he wants to make the first team all-conference and win some solo tournaments as an individual.
Duffy said he always feels as if he is always on a mission. One thing that has always motivated him was the feeling of being "counted out, whether it is basketball, school or golf."
Duffy mentions that he may not appear to be the tallest or biggest guy out there, however, he always has something up his sleeve and has something to show.
He said playing at Siena Heights has meant the world to him. This is because of the relationships he has built along with the tight bonds that have been established.
As for the golf clubs that Duffy plays, he currently has the Mizuno 714 set of irons, as well as a 2-hybrid along with the TaylorMade M3 driver. For Duffy, who generates a high clubhead speed, he must play extra stiff shafts on his irons and a triple X stiff shaft on his driver. This is because it helps with accuracy for players who generate high clubhead speed.
As for his future plans, he plans on graduating this spring and going to graduate school next year, where he plans on using his fifth year of eligibility as a result of the lost COVID season in the spring of 2020. From there, Duffy will likely look for positions in the Adrian area to get started on his career.
Leave a Comment