Brazil's Favretto Adjusting to College, Athletic Life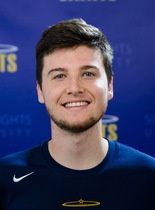 Klaus Favretto is a first-year student from Goncalves, Brazil. Favretto is studying mechanical engineering. He got into volleyball by watching professional volleyball. This inspired Favretto to join a club team because he wanted "to be like them."
In Brazil, there was no high school team, so club was the only option for Favretto. In club, he made it to nationals and finished in second place. Nationals is the biggest tournament that Favretto's club team played in, he said.
So far this season, the setter said he has enjoyed everything about his experience as a collegiate athlete. Favretto mentions how winning has been very satisfying and how everyone has great chemistry within the team.
Alongside being on a high-performing collegiate sports team, Favretto mentioned how this adjustment has not been easy and that you have to be "more committed than usual."
Losing matches is a part of growth. Although the Saints have not lost a whole lot this year, Favretto has mentioned that "losing important matches makes you grow so much in the sport." And this is how the Saints men's volleyball team has been growing this season. 
As for being on the team, Favretto mentioned how "the friendship and competitiveness" has been the best part being on the team. As for what volleyball has taught Favretto, he saidhow leadership and working as a team as well as helping each teammate out will allow the team to reach their lofty goals this season.
As for his goals, Favretto wants to prove to the coaching staff that he is good enough to play more and individually improve every day.  As for the team, Favretto said he wants the team to go to the playoffs, win the conference, and, of course, win the national championship.
Leave a Comment