Macek Making Transition to Full-Time Coach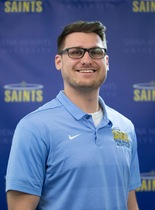 Spencer Macek has been very interested in the game of lacrosse since he was in sixth grade when he was on his way to baseball sign-ups, and his mother told him that his school was adding a lacrosse team.
Macek said he then took interest in this sport as he kept playing throughout his high school years. As Macek graduated in 2011 from Brighton High School, he decided that Siena Heights was going to be his home for the next five years after high school. Macek decided to take his fifth year as a result of a torn ACL that he suffered.
He then graduated in 2016 became a graduate assistant for the program in 2017. After becoming a GA, Macek became the interim head coach in 2021 and then became full-time for the 2022 season.
Macek now realizes that being a leader is an important part about being a head coach. He said how as a coach he can evaluate himself and ask himself, "What can you do better?" or "Did I emphasize the right things?"
Macek also said there are 20-plus players who are looking up to him, so being a leader becomes critical to a team's success. As a former player, Macek said he can see the point of view, not just from the coach's eye, but also from the player's eye.
Macek said how the way the game is played as well as playing defense and offense can be different when you look at it from the players' and coaches' view. Macek said that learning lacrosse as a player helped him transition into becoming the coach that he is today.
This year's team has a lot of returning starters that he expects to make a big impact once again.
One senior whom he expects to lead as the season goes on is Jake Gallaher. Gallaher is a senior who was an All-American as a freshman, but injuries and COVID have disrupted some of his opportunities to play the last couple of seasons. So far, though, Gallaher has had a great start to his senior season where he has helped the team immensely on both the offensive and defensive side of the ball, Macek said.
Another senior who is expected to lead this season is goalie Vinnie Jean. Jean,  "solidifies the defense" and really "cares" about his team and what it can accomplish, according to Macek.
As for the incoming freshman class, Ethan Wissink has been a big-time contributor who plays defense and controls the middle of the field. Macek said that if he can continue to develop as the years progress, he can be "one of the most talented players in the country."
Regarding the goals for this season, Macek's goal is to "graduate future leaders." Macek wants his players not just to be terrific lacrosse players, but leaders in the world where they can make it a better place.
This year's team goal is to make the national tournament and have a tight-knit team. Macek said that in the Wolverine-Hoosier Athletic Conference, the team that has the best team chemistry advances, and the teams that do not collapse.
As for Macek's first full year of coaching, he said he enjoys seeing his players compete and why he loves coaching.
Leave a Comment