Saints Look for Big Year Under New Head Coach Andrew Ioanou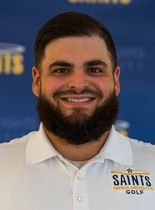 Andrew Ioanou is a former player who played for the saints from 2014-2016. Ioanou had a terrific career for the saints and now he is looking to contribute as a coach and as a leader of men and women. Ioanou grew up in Livonia, Michigan where he graduated from Winston-Churchill high school in 2012. Before attending Siena Heights, Ioanou attended Schoolcraft college for two years. After Ioanou played and graduated, he worked until the year of 2020, where he decided that he wanted to come back to graduate school and become a graduate assistant for Siena Heights' Men's and Women's golf teams. After completing his two years of graduate school, Ioanou did not have any intentions of returning as a coach. However, when previous head coach Al Sandifer took another position within the administration's athletic department, Ioanou saw the opportunity to become the interim head coach. Now Ioanou has taken this position, where he now looks to do big things this season to prove himself as a head coach.
When Ioanou found out that he had the opportunity to become the head coach, Ioanou was and still is excited. "Obviously we have a great group of young men and women who I've become close with during my time as the GA so I'm happy I get to continue working with everyone and growing the Siena Heights golf program." Ioanou also wants to create the best possible culture and environment around both programs. Obviously Ioanou wants to win as much as possible, but Ioanou knows that "winning is a result of all the little things we do correctly as a program."
As far as what inspired Ioanou to return, he mentioned how "getting to work with the teams again was my biggest inspiration to come back, because of how close we all are." Another aspect on why Ioanou decided to return was to continue to build the foundation that previous coach Al Sandifer worked so hard to build. This year, Ioanou is really going to put an emphasis on developing student-athletes both on and off the course. Ioanou stresses that he really wants to help everyone balance patience, work ethic, and grit. To come back as a coach, Ioanou realizes how special it really is. Ioanou mentions that coming back as a coach also meant a lot to him because "it's a place that is near and dear to my heart," when referring to Siena Heights. Ioanou also reiterated how important it is to build on the foundation that coach Sandifer laid for the program.
As a former player, Ioanou believes that it will help him become a better coach moving forward. This is because Ioanou has "been through everything on the course that the players are going through." With his playing experience, Ioanou can facilitate the team's growth through sharing his own experiences. As a head coach now, Ioanou understands that there is a lot more responsibility now as a head coach. With that being said, Ioanou mentions how "I love doing it even when it's difficult. I realize how lucky I am to have the opportunity to do it and help our student-athletes grow." Ioanou's goal is to build a special program for the young men and women that he will be leading. Ioanou stated that "Siena deserves it, and the community deserves it." Ioanou wants to have as big of an impact on the players because they have an enormous impact on Ioanou.
Leave a Comment