Richards' Love for Her Sport Shows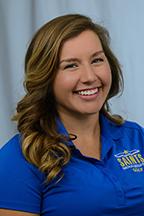 There's no one who loves golf quite like Andrea Richards. And it shows. She has been the top finisher for her team in four different competitions, and even earned All-Wolverine-Hoosier Athletic Conference first team honors during her final season as a Saint.
"I put the most effort into this season than I ever have," Richards said, "And I think it's because of the fact that this is it."
With this being her last season, she said that she's more motivated than ever. But she also gives credit back to her father, SHU head women's cross country and track and field coach Kirk Richards.
"He's always been one of my motivators. He initially got me into golf as a little girl, so he'll always stay a motivator," she said.
She also loves having her biggest motivator here on campus even if she doesn't see him as much as people think.
"It's nice that when I feel stressed or unhappy, I can go to him because he's a few steps away," said Richards.
She questions why she's never put so much effort into it before, but she's glad she's determined now so that she can leave her teammates with that same determination and love for the game.
"I'll be honest I don't really think there's anyone at school that has a love for golf like I do," Richards said, "And I'd love for them to remember that and look up to that. I'll also say that the team was a large part of my life and these girls, graduated and still attending school, have taught me a lot and for that I'm thankful."
Ending her golf season and being a senior, Richards summed up her feelings in two words: "bitter sweet."
Leave a Comment