Saints Sports Roundup: Week Nine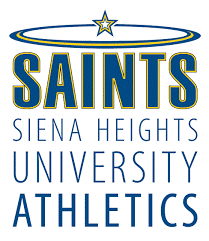 Hang on for a minute...we're trying to find some more stories you might like.
October 24
Women's Soccer @ Rochester. W 4-1.
Three goals in the second half helped launch the Saints to a 4-1 road victory over Rochester. Samantha Bartelotti got the Saints going with their lone goal in the first half off an assist from Taylor Mulder. Going into the second half tied at one was no problem for SHU as Bartelotti scored her second goal of the game, which turned out to be the game winner. Mulder and Morgan Siterlet added to the scoring, both off an assist from Emily Burkman. Goalkeeper Sophia Lentz came into the game to start the second half and earned the win after stopping all three shots she faced.
October 25
Men's Soccer VS. Rochester. W 4-0.
Three goals by Justin Gray in the second half helped propel the Saints to a 4-0 shutout victory over Rochester. Scoring the lone goal in the first half and the game winning goal for SHU was Rahbar Khan. Justin Gray helped expand the Saints lead by scoring a hat trick in the second half. Gray's first goal came off assists from Chris Ornelas and Brent Rodden. Gray's second goal was unassisted while his third and final goal of the night came off an assist from Matt Lentine. Earning the complete game shutout in net for SHU was Andrew Kozan. Kozan made six saves in the winning effort.
Women's Volleyball VS. Concordia. W 3-0.
The Saints had no trouble controlling Concordia as they won the first three sets by scores of; 25-18, 25-9 and 25-19 to earn the 3-0 match victory. Leading the Saints with 9.5 points was Amanda Metz and Christine Tylutki. Metz also led the team with six service aces while Tylutki led with seven kills. Paige Hudgin led SHU with 13 digs.
October 27
Women's Volleyball @ Cornerstone. L 3-1.
The Saints were able to win set one 25-22, before dropping the next three sets by scores of; 25-23, 25-23 and 25-18 to fall to a match score of 3-1 to Cornerstone. Elizabeth Breton led the Saints with 15 points while contributing 11 kills. Taylor Purcell contributed 14.5 points while leading the team with 13 kills. Leading SHU with 23 digs was Paige Hudgin while Gabby Kalugar had 21.
October 28
Women's Soccer @ Northwestern Ohio. L 2-0.
The Saints were unable to find the back of the net as they fell 2-0 to Northwestern Ohio. Samantha Bartelotti led the Saints with two shots, both of them being on goal. Taking the loss in net for SHU was Taylor Hill. Hill allowed two goals in the first half but was able to blank UNOH in the second half. Hill made six saves in the losing effort.
Football @ Marian. L 27-21.
The Saints had a strong first half, but were unable to get the offense going in the second half as they blew a 21-14 halftime lead and fell 27-21 to Marian. Lucas Barner Jr. went 22-37 with 222 yards and three touchdowns while D'Aries Davis rushed 19 times for 78 yards. Damon Wright Jr. led the SHU receivers with 11 catches and 149 yards to go with a touchdown. Also coming down with a touchdown catch was Davis and Deontae' Rush. Leading the Saints defensively was Da'Quan Butler with 13 tackles, a pass break-up, and an interception. Darius Price also tallied double-digit tackles as he earned 11 tackles to go with a pass break-up.
Men's Soccer @ Northwestern Ohio. L 4-1.
The Saints struggled in the second half, allowing three goals as they fell 4-1 to Northwestern Ohio. Scoring the lone goal for the Saints was Chris Ornelas. Enoch Tsibu-Beckson led the team with three shots while Rahbar Khan and Brent Rodden had two shots apiece. Earning the loss in net for SHU was Andrew Kozan. Kozan allowed four goals while making nine saves.
Men's Bowling @ AHIBC #1.
The Saints varsity team had a total pin fall amount of 7,038 to finish ninth while our Saints junior varsity team competed with only four bowlers and finished 16th with a total of 4,627. For the Saints varsity, Joshua Criscenti averaged 201.00 for five games to finish with a 201 average that was good enough for 37th place while Ryan Freeman averaged 237.25 in four games. Mitchell Rusinek averaged 181.20, Steven Cadwell averaged 191.75 over four games, Shane Rusinek bowled in four games, averaging a175.50, and Keith Reid averaged 184.00 over three games. For SHU's JV team, Travis Marcus bowled an average of 194.60 over the five games to take 59th place while Patrick Mulqueen averaged 161.80, Ryan Zaharia averaged 151.00 and Aaron Joseph averaged 138.80.
Women's Bowling @ AHIBC #1.
The Saints knocked over 6,684 pins to finish in seventh place. Leading SHU was junior Olivia Cabildo who averaged 192.80, with a high game of 212, over five team games to finish in 16th place. Freshman, Taylor Thomas averaged 190.60 while Junior KaCee Costello averaged 186.20 to finish 23rd and 26th, respectively. Also, bowling for the Saints was Tryna Gladstone who averaged 181.75 over four games, Tiffany Paraventi who averaged 192.00 for three games, and Courtney Herron who bowled three games, averaging 167.00.
October 29
Men's Bowling @ AHIBC #2.
The Saints placed 12th in the varsity division with a 6,330 score while Saints JV team, shot 4,310 with just four bowlers to finish 16th in their division. Steven Cadwell finished with a 204.50 average for four games placing him in eighth place, while Keith Reid was in 45th place by averaging a 187.50. Other bowlers on Varsity: Joshua Criscenti had a 180.25 average, Shane Rusinek had a 164.75 average, and Ryan Freeman averaged 156.25. For the JV squad, Mitchell Rusinek averaged 192.75 and placed 28th in the field of 269 bowlers while Ryan Zaharia had a 153.50 average, Patrick Mulqueen averaged a 138.50, while Aaron Joseph averaged a 137.25 to round out the scoring.
Women's Bowling @ AHIBC #2.
Tryna Gladstone led the way for the Saints by averaging a 178.00 over four team games to finish in 17th place. Courtney Herron finished in 39th place after averaging a 163.00 over four games. Tiffany Paraventi finished with an146.50 average over four games while KaCee Costello averaged a 164.33 over three games. Lastly, Olivia Cabildo averaged an163.67 over three games while Taylor Thomas averaged 153.00 over two games.